McAfee is a comprehensive computer protection service that offers a variety of products to make your digital life better. The company has also devised its VPN, namely the McAfee Safe Connect. However, like many software programs, it is susceptible to errors.
If you're having trouble with your McAfee VPN software, follow the steps below to reinstall it. A VPN, or Virtual Private Network, creates a secure connection when using public networks [1].
By using a private server from your VPN rather than your ISP, your device will be able to encrypt data and transmit it to the internet securely. This is especially important if you're using a wireless network or public hotspot.
If you're having trouble with your McAfee VPN, don't worry – you're not alone. Many people are reporting that their VPN isn't working properly, and they don't know how to fix it. In this blog post, we will walk you through the steps that you need to take in order to get your McAfee VPN up and running again. We'll also provide some tips on how to troubleshoot any problems that you might be experiencing.
What Is McAfee VPN?
The McAfee Corporation, previously known as McAfee Associates Inc., dominates the computer security industry. It is an American computer security software company striving for global excellence in all forms of security products and services. The company has been making progress since it was established in 1987 and has garnered a positive reputation when it comes to antivirus software.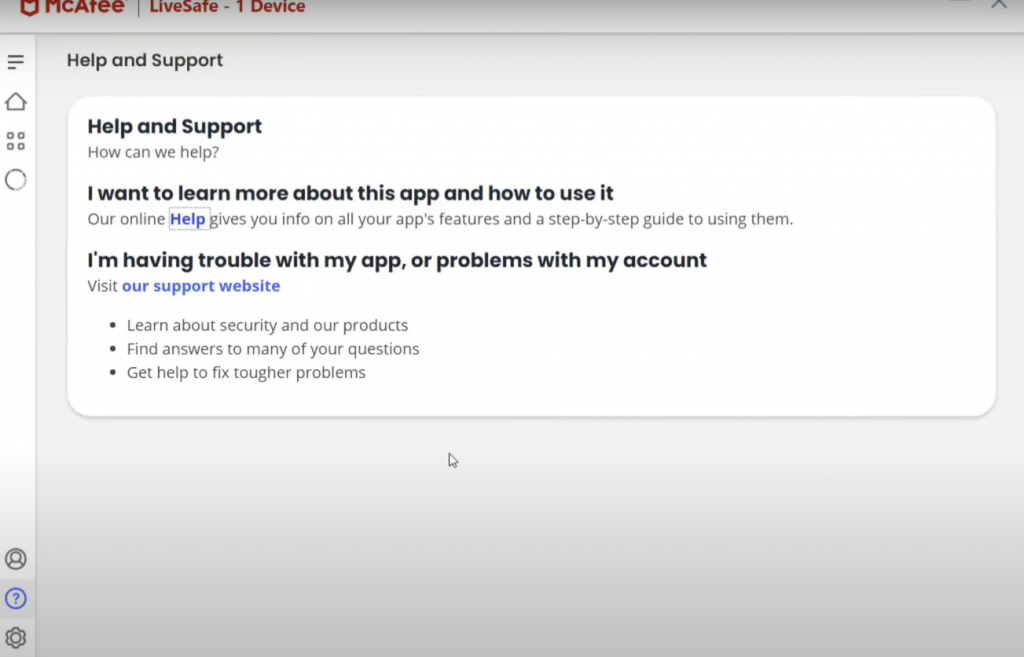 After Intel purchased McAfee Corp.'s security division, the company still had enough name recognition to make a significant splash when it finally entered the VPN market. And luckily for them, they met expectations [2].
The service hails from San Jose, CA, which makes some users and critics hesitant to trust it. Although there are certainly some areas where the product can be improved – such as a lack of features and servers – McAfee does provide a free version that doesn't withhold any services.
Safe Connect is notable for its low price and ease of use. What's more, Safe Connect has become an add-on to McAfee's other services and software products.
Why Is McAfee VPN Not Working?
The McAfee VPN not working problem commonly appears when someone tries to establish a connection with the VPN server. In other instances, however, the antivirus software does not load Netflix or any other widely used streaming service.
If the McAfee VPN is not working, this typically manifests in one of two ways: either it will not switch off, or it will disappear entirely while you are actively using it. VPN stands for Virtual Private Network and provides secure network connectivity when utilizing a public network. 
It does this by routing your system's internet connection through your chosen private server instead of your ISP (Internet Service Provider). This way, data transmitted to online platforms appear to come from the VPN server rather than straight from your device [3].
How Can I Fix McAfee VPN Not Working On Windows
Check Your Internet Connection
The first thing you should do is check if your internet connection is active. If it's working, then see if there might be an issue with the strength or quality of the signal. If your internet connection is not working, then you may need to contact your internet service provider to troubleshoot the problem [4].
Make Sure That Your PC System Date And Time Are Correct
Another common reason why McAfee VPN is not working on your Windows PC is that there may be an issue with the system's date and time. If the date and time settings are incorrect, then this can interfere with the operation of your VPN connection.
To check if your PC's system date and time are correct, open the Settings app, go to Time & Language > Date & Time, and make sure that both the "Set time automatically" and "Set time zone automatically" options are enabled.
Disable Your Firewall Or Antivirus Software
If McAfee VPN is not working on your Windows PC, there may be an issue with your firewall or antivirus software.
To resolve this problem, try disabling your firewall or antivirus software temporarily to see if it resolves the issue. Note that it's important to keep your security software enabled and up-to-date for optimal protection against viruses and other threats.
Update Your Network Driver
If your McAfee VPN is not working on your Windows PC, there may be an issue with your network driver. In this case, you should try updating your network driver by going to the Device Manager and finding your wireless or Ethernet card under Network adapters.
Once you have located it, right-click it and select "Update Driver" from the menu. This will prompt you to either automatically search for a new driver online or browse for one on your computer.
If you choose to manually install a new driver, make sure that you download it from the manufacturer's website and that it is compatible with the version of Windows installed on your computer. After updating your network driver, restart your computer to see if this fixes the problem.
Contact McAfee Website Admin
If you are a McAfee VPNs user and facing technical issues like being unable to connect, unable to add a new profile, cannot having the point-to-site configuration, and more related issues, then it is better for you to contact the McAfee website admin.
You can also call up its customer support anytime around the clock. The certified technicians will help you to troubleshoot your issue in a short time [5].
Change To A Different Server
If the VPN service is not working at all, then you need to find a different server address that will work in your area.
The best way to do this is by browsing through the Internet options on McAfee:
First thing first, click on System Preferences from the Mac system preferences window. For Windows users, go to the control panel and click on Internet options;
Then click on the Connections tab and choose settings for the automatic connections wizard. You need to select "OpenVPN with TCP" or "OpenVPN with UDP" protocol according depending upon which one works for you;
Now configure a new server address for your area that should be available after you have clicked "OK" or applied button under the network screen of your computer operating system preference or control panel [6];
Reinstall McAfee Safe Connect VPN
If McAfee Safe Connect VPN is not working for you on your computer, it is possible that the software needs to be reinstalled. Here's how:
Click on the Windows Start Menu in the bottom left-hand corner of your screen. From there, click on Control Panel and select Uninstall a Program. Make sure that McAfee Safe Connect VPN is selected and then click Uninstall. Follow any prompts as they appear and wait until the uninstallation process has been completed before doing anything else with your computer;
In some cases, you may need to restart your computer after removing McAfee Safe Connect VPN from your system to complete the uninstallation process correctly. Once this is done, visit McAfee's website directly and download the latest version of McAfee Safe Connect VPN;
Run the installation file once it is downloaded, following all prompts as they appear on your screen. Once the installation has finished, restart your computer again to ensure that the software has been completely installed correctly;
Once you have successfully reinstalled McAfee Safe Connect VPN, try connecting to your VPN network again and see if it works this time around. If not, then there may be something else causing the issue, such as a problem with your network or internet connection. In this case, you may need to troubleshoot these issues before reconnecting to your VPN network with McAfee Safe Connect VPN;
Upgrade To A Better VPN
If the fixes noted above don't work, it's either because McAfee Safe Connect VPN can't handle the demand of its customers or because it's not fast enough to stream in your location.
As this can be a problem, you'll have to wait for Norton Secure to fix the issue – there's no telling how long it will take or if McAfee Safe Connect VPN will fix it.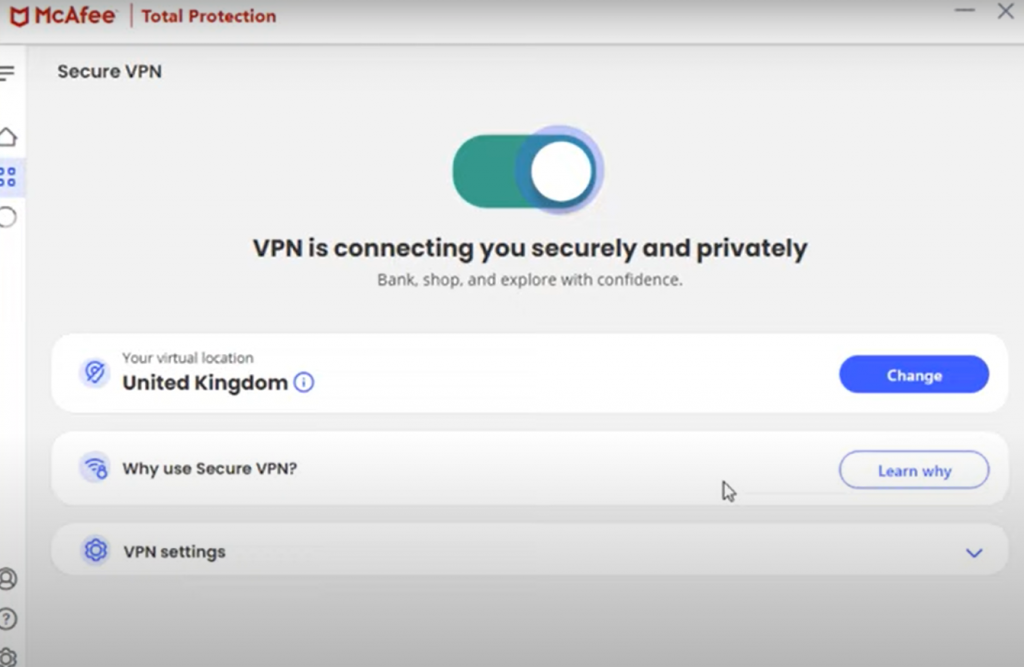 If you're looking for a VPN that can handle increased demand and has a fast, secure connection, upgrading is the best option [7].
Disable Conflicting Security Software Or VPN App:
First, check your VPN settings to ensure that it is not conflicting with any other security software you have installed;
To do this, turn off McAfee and then try connecting to your network via the VPN again. If that works, try turning on each individual program one at a time until you can find the one that is causing the conflict;
You may also wish to look into third-party programs if none of these steps work for you [8];
Check If The Installed Software Is Corrupt Or Not
When you are dealing with McAfee VPN, not connecting issues, the first thing that you can do is to check if the installed software is corrupt or not. There could be a possibility that due to some technical glitch, your McAfee VPN isn't working. So, be sure to restart it and see if it resolves the issue or not.
McAfee VPN Not Working On iPhone/iPad: How To Fix
Ensure The Device Is Not Rooted
If you are experiencing problems with your McAfee VPN and are wondering how to fix them, the first thing you should do is check to see if your device is rooted. If it is, then this could be contributing to the problem, as it can interfere with how some apps and functions work. One way to determine whether or not your device is rooted is by downloading an app that will show you the information about your system.
The next step to fixing the issue would be to uninstall any existing VPN apps on your device and then reinstall a new one that is compatible with your operating system. This may involve going through different VPN options until you find one that works for you [9].
Additionally, if possible, try running a scan of your device to make sure that there are no other underlying issues that could be contributing to the problem.
Change The Target Country
If you want to fix your McAfee VPN connection without hassles, the first thing you need to do is change the target country. To do so, just follow these steps:
Go to your PC's Settings menu and select Network settings under the Wireless & Networks section;
Choose VPN from the menus displayed on the screen, then choose Add Connection from within it. Next, enter the server's address that you want to connect with and enter a name for that VPN connection. When ready, save your settings by pressing "OK" button;
Make sure that you are connected to the Internet before trying this step as, otherwise, it won't work properly. Once done, try connecting again with your VPN service provider and see if it's working;
Turn Airplane Mode On And Then Off
If you are having problems with McAfee VPN, one thing that you can try to do is to turn on Airplane mode and then turn it off. In many cases, this will fix the problem and you will be able to use your VPN again. In order for this to work, you will want to make sure that your phone has a strong signal or WiFi connection. Otherwise, doing this step won't work.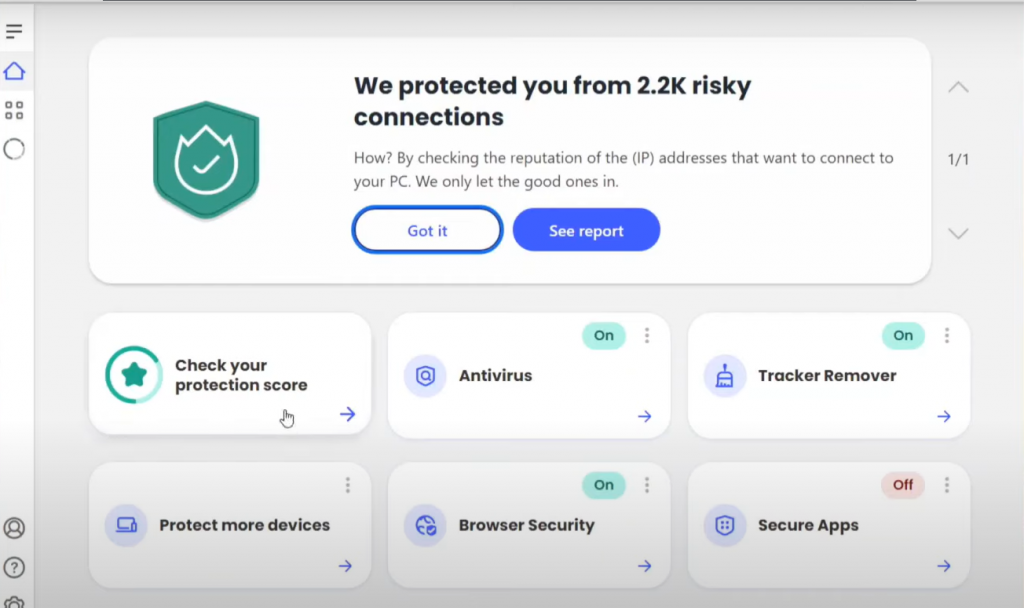 To turn on Airplane mode, go ahead and tap on Settings > then go all the way down until you get to Airplane Mode. Toggle it On by tapping on the button. Let it start running by going back up and checking the status of your settings menu.
This should now fix your McAfee VPN issue, allowing you to use your connection again.
Reset the Network Settings (While On WiFi)
Try to reset your network settings in order to fix any misconfigured WiFi/Ethernet connections. To do this, go to the Settings app and tap on General > Reset > Reset Network Settings.
Reset McAfee VPN (While On WiFi)
Another option that you can try out is to reset McAfee VPN and reconnect it to your WiFi network. This will allow it to reestablish the connection between the two and hopefully get rid of any potential bugs that were causing problems with connectivity.
To do this, just follow these steps:
Go into the Finder app and click on Applications>Browse All Apps Find the "McAfee" folder Locate the McAfee VPN app and drag it to the Trash;
Restart your computer by clicking on the Apple icon in the Menu bar>Shut Down Restart your computer and check if the problem still persists;
McAfee VPN Not Working On Android: How To Fix
Ensure The Device Is Not Jailbroken
If you are having trouble connecting to McAfee VPN on your Android device, there could be a number of possible reasons. For example, you may have a jailbroken device that is not compatible with McAfee software. In this case, you will need to get in touch with an expert for help un-jailbreaking your device.
Connect To A Different Country
Alternatively, it's also possible that you are trying to connect from an area with poor network coverage or unstable internet connectivity. If this is the case, try connecting from another location or accepting slightly slower speeds as standard in order to resolve any connection issues with McAfee VPN on your Android device.  
Accept Poor Connections As A Standard
If you are facing regular connection issues with your McAfee VPN on Android, it might be a good idea to accept poor connections as a standard. This will help to prevent disruptions and ensure that you can continue using the internet seamlessly at all times.
Turn Off Battery Optimization
Finally, if none of these solutions work and your McAfee VPN app continues to show signs of trouble, you may want to turn off battery optimization for the app to ensure that it has enough processing power to operate smoothly.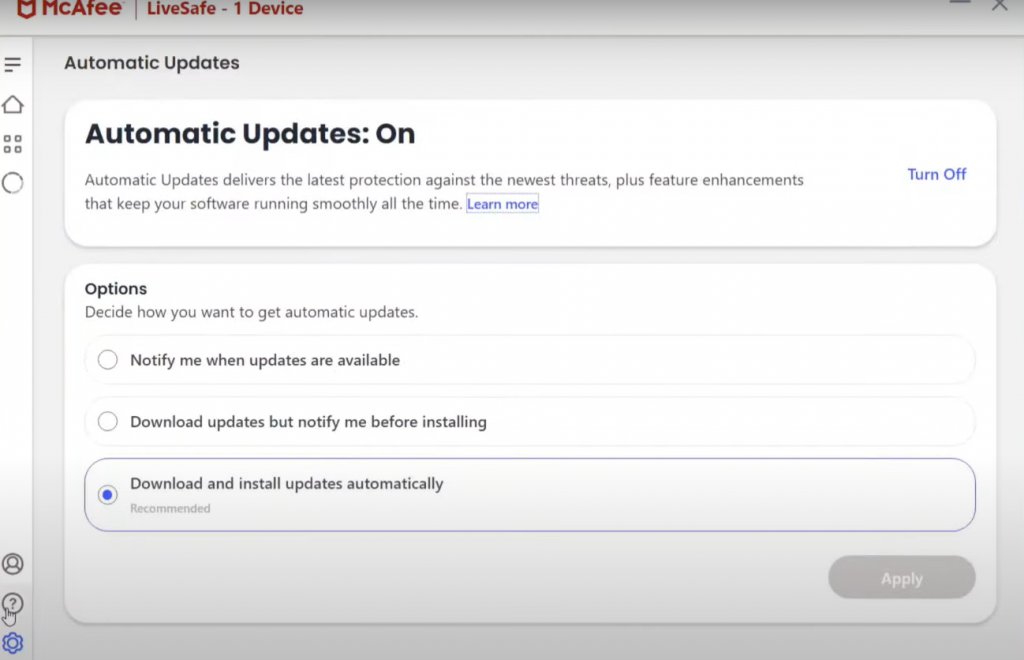 No matter what the cause of your McAfee VPN problems is, these tips should help you resolve them and get back online in no time [10].
---
FAQ
Is McAfee blocking my VPN?
Typically, McAfee does not block VPNs. However, there may be other reasons why your VPN is not working.
Some common issues that can cause a McAfee VPN to fail to include:
Incorrect configuration of your VPN settings or connection settings on your device;
A network issue that is preventing your device from connecting to the VPN server correctly;
An outdated version of McAfee software on your device that is causing conflicts with the VPN connection process [11];
Why has my McAfee VPN disappeared?
Your McAfee VPN could be gone for a number of reasons. Perhaps it stopped working after an update, or maybe the application itself is no longer supported.
The first thing that you should do is run a full system scan with your antivirus solution. This will help identify any issues affecting your device and can often restore your connection to the virtual private network (VPN). If this does not work, check with the VPN provider for instructions on troubleshooting or reinstalling their software.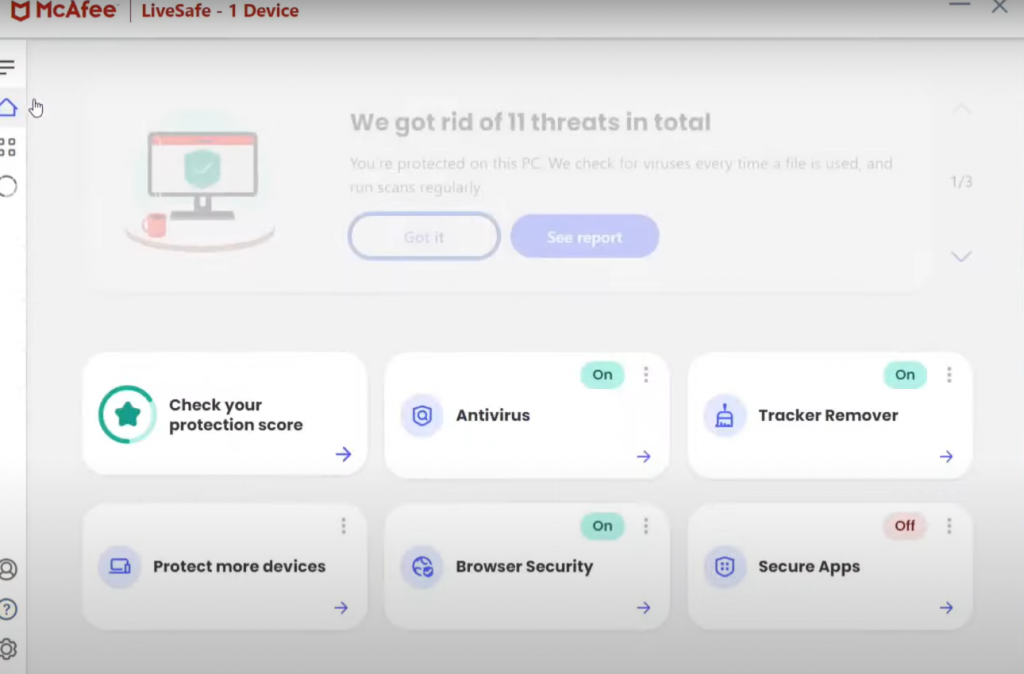 In addition to these troubleshooting steps, it may also be helpful to consult online forums or support communities for more advice on how to resolve your issue with a McAfee VPN. With some patience and persistence, you should be able to find a solution that works for you and get back to using your VPN without any issues.
How do I turn on the VPN on McAfee Antivirus?
By encrypting your data and disguising your location, McAfee Virtual Private Network helps you stay safe on public Wi-Fi and open networks.
Here is how you can turn on the VPN feature on your McAfee antivirus:
Open your McAfee antivirus software and go to the Settings tab;
From here, select the Virtual Private Network (VPN) option, which will take you to a new screen with several options;
Select whether to turn on or off the connection when prompted, then click "Apply" to save your settings;
To ensure that your VPN is successfully connected and working, look for a small icon in the bottom right corner of your computer screen that indicates whether it's enabled or not. If it isn't turned on, simply repeat these steps until it connects successfully [12];
Should I turn on McAfee VPN?
McAfee VPN is a security tool that helps keep your information safe while you're on the internet. If you connect to public wifi, McAfee VPN can help keep your data protected from hackers and other malicious actors.
How does McAfee Secure VPN Work?
McAfee Secure VPN is a virtual private network service that works by creating an encrypted and secure connection so your data stays protected from anyone without access to the VPN server. All of your internet traffic gets routed through this secure connection, keeping you from being tracked or identified by any third party.
Is VPN free with a McAfee Total Protection subscription?
McAfee Total Protection comes with an unlimited VPN subscription. You can use it on all your devices to keep your information private and secure while you browse the web [13].
Can I watch Netflix with McAfee VPN?
Unfortunately, you can't use McAfee VPN to watch Netflix. While there are ways to get around this restriction with the help of a reliable VPN service provider and their servers, it is not currently possible with McAfee's default settings.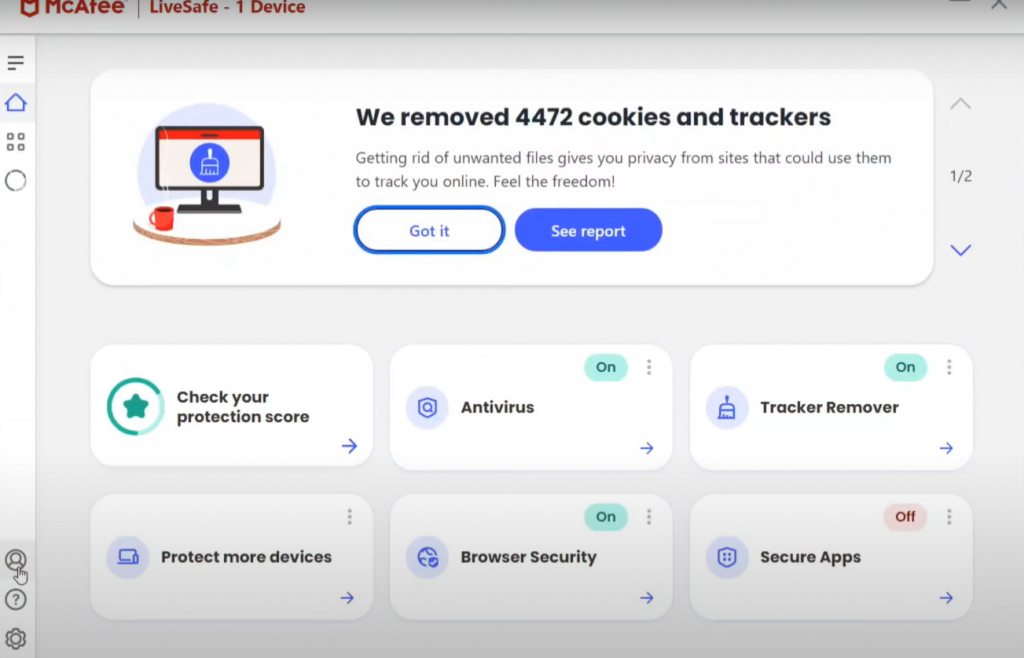 Fortunately, there are other options for you if you want to access content on geo-restricted sites like Netflix. Some of these include using a dedicated VPN or subscribing to a streaming service that offers such content from anywhere in the world.
Is NordVPN better than McAfee?
NordVPN is a highly reliable VPN service that offers robust security features and advanced encryption options, making it an excellent option for many McAfee users who are looking to keep their sensitive data safe while working online. However, there may be times when you experience problems with your NordVPN connection.
In such cases, the following solutions should fix these issues quickly:
Check the network status of your device by opening the Network & Internet settings in Windows (or Settings > Network & Internet on a Mac). If any of the Wi-Fi or Ethernet connections have errors or are causing trouble, turn them off and try connecting again;
Make sure that all firewalls and anti-virus programs aren't blocking your VPN connection. If you are using McAfee on your device, try disabling it temporarily to see if this resolves the issue;
Contact NordVPN customer support for further assistance with troubleshooting your connection issues. They will be happy to help you get up and running again in no time;
Which is better – Windows Defender or McAfee?
If you're experiencing problems with your McAfee VPN, you need to read about the possible causes and troubleshooting methods. Windows Defender is a built-in antivirus solution for Windows operating systems that provides reliable protection against malware.
It's simple to use and lightweight, but some users think it doesn't offer enough features and prefer dedicated security suites like McAfee's [14].
Does McAfee VPN keep logs?
Safe Connect doesn't keep logs so McAfee won't be able to collect any information regarding what you browse while connected to our VPN [15].
What does McAfee VPN cost per year?
After the free week trial, McAfee Safe Connect VPN is $34.99 a year. You can pay this all at once, or break it down to $4 a month and pay monthly. After the first year, the annual plan will automatically renew at $47.99 per year unless you cancel beforehand [16].
Useful Video: VPN is missing on McAfee live safe | India
---
References:
https://vpnwired.com/fix-mcafee-vpn-not-working-error/
https://www.mcafee.com/en-us/consumer-corporate/about.html
https://isclogin.com/blog/how-to-solve-the-mcafee-vpn-not-working-error-in-easy-steps/
https://www.reviewsfire.com/vpn/mcafee-safe-connect-vpn-not-working-try-these-easy-fixes-august-2022/
https://antivirusops.com/mcafee/mcafee-vpn-not-working/
https://vpncentral.com/mcafee-vpn-not-working/
https://www.reviewsfire.com/vpn/mcafee-safe-connect-vpn-not-working-try-these-easy-fixes-august-2022/
https://antivirusops.com/mcafee/mcafee-vpn-not-working/
https://vpnwired.com/fix-mcafee-vpn-not-working-error/
https://vpncentral.com/mcafee-vpn-not-working/
https://www.mcafee.com/support/?articleId=TS102778&page=shell&shell=article-view
https://www.mcafee.com/support/?page=shell&shell=article-view&articleId=TS103018
https://www.mcafee.com/support/?articleId=TS103018&page=shell&shell=article-view
https://www.comparitech.com/antivirus/microsoft-defender-vs-mcafee
https://www.security.org/vpn/mcafee/review/
https://www.security.org/vpn/mcafee