---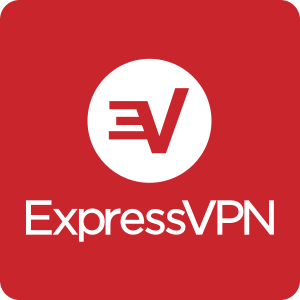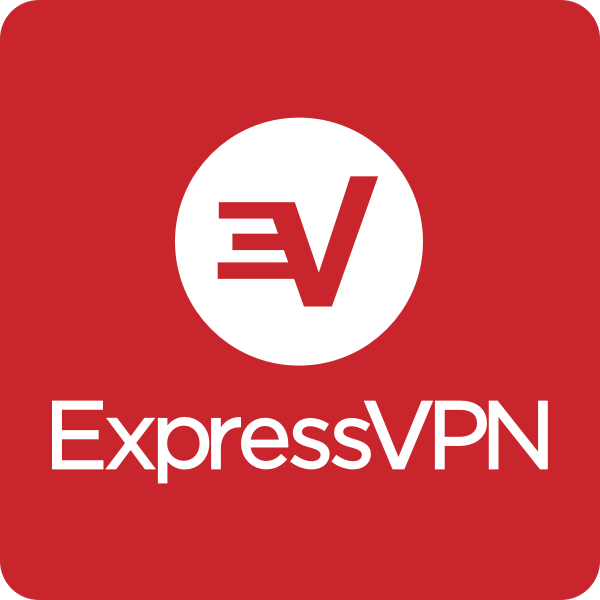 Network Lock kill switch
Private DNS
Best-in-class encryption
No activity or connection logs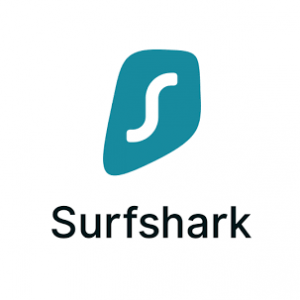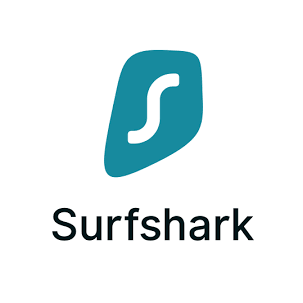 Strict no-logs policy
Kill Switch
Private DNS & leak protection
Camouflage Mode
---
Choose the Best VPN Between Surfshark and ExpressVPN
Customer's Choice: the Best Rated VPN Service in This Comparison
11 users answered this survey. Please help us improve this review!
81.82% of users selected ExpressVPN , 18.18% selected SurfsharkVPN . Every month we analyze your answers and change our rating.
It can be difficult to decide which VPN service is the best for you, especially when there are so many options out there. For this article, we will be comparing two top-tier VPN services: Surfshark and ExpressVPN. We will discuss the pros and cons of each VPN service, including pricing, privacy policy, speed, customer support quality and more! It's important to be able to make an informed decision when choosing a VPN provider. Read on to find out which one is the better option for your needs!
Servers and Locations
The first thing we will compare is the number of servers and their locations. It is important because the more servers a VPN service has, the better chance you have of finding one that is fast and reliable in your location. Actually, they also affect your anonymity as well. The more servers a VPN service has, the less likely it is that your traffic will be traced back to you.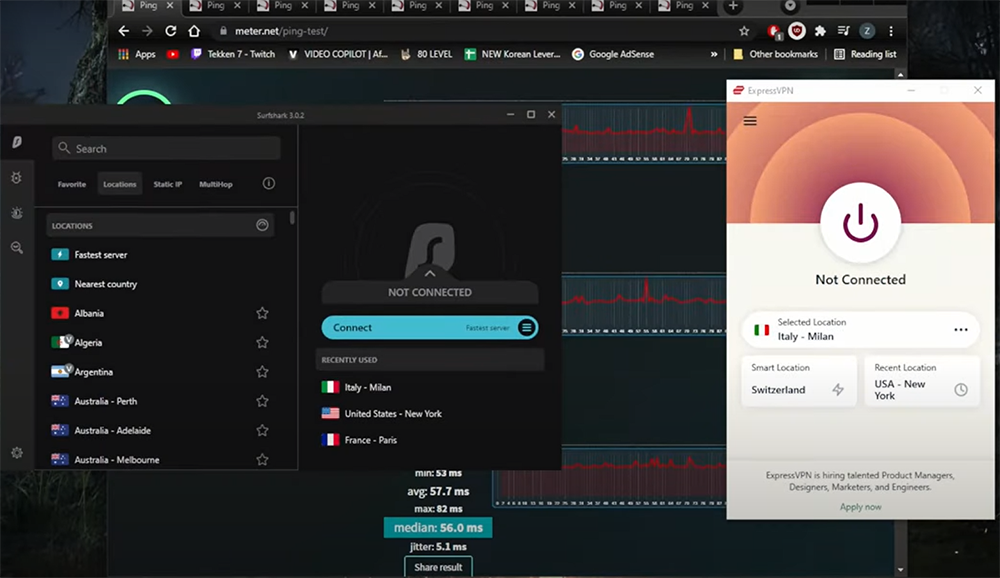 Servers and locations must be considered when looking for the best VPN because they will affect your online experience. For example, if you live in the U.S., and want to watch a show which is only available on Netflix UK, your best bet will be finding a VPN with servers located there.
It is important to know where a VPN company has servers located. If you want to use your VPN for streaming, then you'll want to make sure the provider has servers in the country you're trying to access content from.
ExpressVPN has an impressive number of 3000+ servers in over 94 countries. Moreover, it keeps adding new servers every month.
Surfshark, on the other hand, also has about 3000 servers, but in 65 countries.
Both VPNs have servers in such major locations as the US, UK, Canada, Australia, and Japan. However, Surfshark is noticeably weaker when it comes to servers in Africa and South America.
If you are a fan of watching streaming services from abroad, you might be happy to hear that both Surfshark and ExpressVPN have servers in China and Russia.
Both of them offer more than enough locations for everyone's needs and both have large server networks, but ExpressVPN takes this round due to its larger number of servers in different countries.
Speed
The next thing we looked at was speed. Speed is always important when it comes to VPNs – you want to make sure your connection is as quick as possible so you can continue browsing and streaming without any interruptions. In addition, when you're on vacation or away from home, it can be important for the connection to go as fast as possible so you don't miss out on any of your favorite content.
Speed depends on a number of factors, including your own internet connection, the VPN protocol you opt for (we'll look at that in more detail below), and where you are in the world. Moreover, it's important to bear in mind that speed is not the only metric you should be looking at when picking a VPN.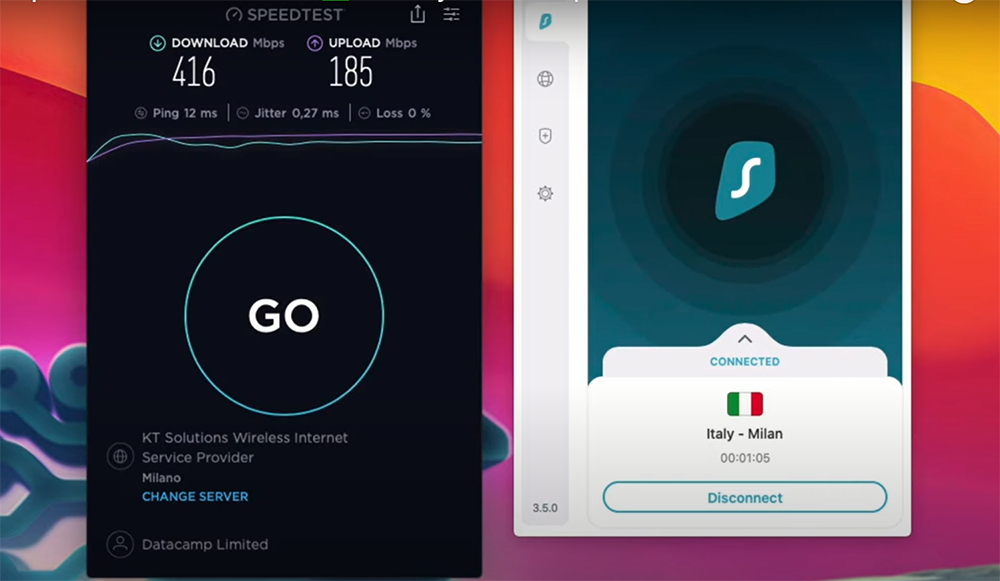 The Surfshark vs ExpressVPN comparison will show that both of these providers have excellent speeds. In fact, the results from our testing revealed that they are actually neck and neck in terms of speed – it's a close call between them!
For example, in the US, Surfshark had a download speed of 71.64 Mbps, while ExpressVPN was only marginally behind with a speed of 69.93 Mbps. In the UK, Surfshark's download speed was 47.06 Mbps, compared to ExpressVPN's 45.86 Mbps.
You should also consider the latency, as this can have a significant impact on your overall experience. In the US, Surfshark's latency was 125 ms, while ExpressVPN's was 141 ms. In the UK, Surfshark had a latency of 109 ms, compared to ExpressVPN's 112 ms.
However, if you want to dig a little deeper into the numbers, keep reading. We'll take a look at the different VPN protocols, and whether they make an impact on speed (spoiler alert: yes, but not much).
Of course, if you don't want to go into too many technical details when it comes to speeds and latency in order to choose your provider, there are plenty of other factors you can look at.
So what does all of this mean? Simply put, both providers are incredibly quick and provide a smooth experience – you won't be disappointed with either of them. If speed is your number one priority, then you can't go wrong with either Surfshark or ExpressVPN.
If you use VPNs to watch a lot of streaming content, speed will be even more important for you. ExpressVPN and Surfshark both have excellent speeds – it's up to you which one is the quickest!
Remember to always do your own speed tests to get the most accurate results. You can find a variety of speed testing tools online.
Security
Another important aspect of VPN is security and data encryption. It ensures that the information you share over your connection is unreadable for third parties, including hackers and governments. In addition, your IP address is hidden by the VPN, so it protects your identity even when you are in public places or using an unsecured network.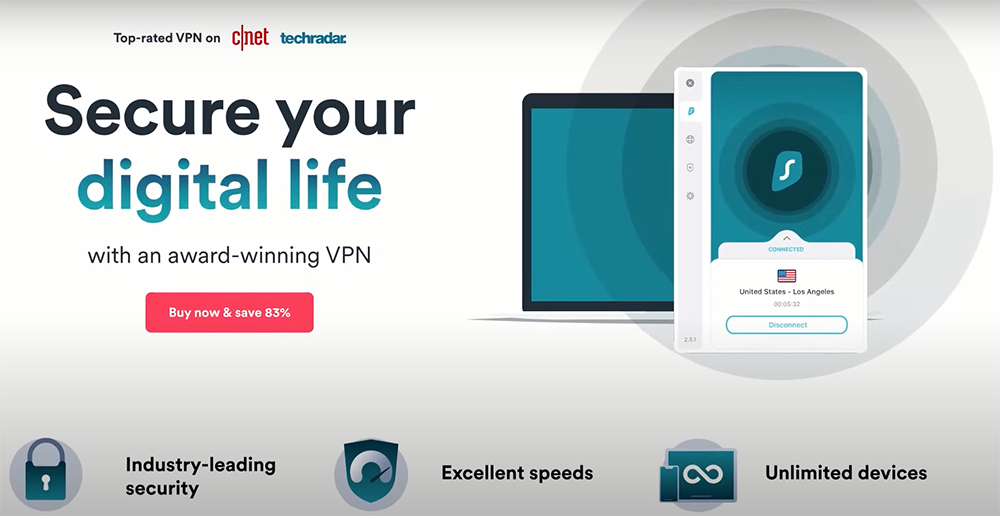 There are a few things you should know about VPN encryption. The first is that no matter which service you use, your data will be encrypted. However, some services offer stronger security than others do and it's important to understand the difference between them.
Second, make sure your provider offers a range of protocols: OpenVPN is a very secure, but less user-friendly option; IKEv and Linux users should opt for SSTP or OpenVPN. PPTP is an outdated protocol that doesn't offer any security features – stay away from it!
The third thing you need to know about VPN encryption is a simple rule: the more complicated your password, the harder it is to crack. For instance, Surfshark allows you to use a password with both numbers and symbols which will make it significantly more difficult for third parties to access your data.
Last but not least – remember that VPN encryption only protects your web traffic. It doesn't protect any other apps or software on your devices. That's why you should always use a VPN when browsing the web with your browser, using file-sharing software or playing online games.
SurfShark uses AES-256 encryption with SHA512 authentication and a 4096-bit RSA key. It also offers protection against DNS leaks, WebRTC leaks, Ipv & DNS leak prevention as well as an automatic kill switch to stop your Internet if you lose connection.
ExpressVPN uses AES 256-bit encryption with SHA-512 authentication and a 4096-bit RSA key, which is the same level of security offered by the military. Additional security features include split tunneling, DNS leak protection and an internet kill switch if your connection drops unexpectedly. It also offers a variety of protocols like OpenVPN (both UDP and TCP), LTP, PPTP, SSTP and IKEv. You can choose between OpenVPN UDP and TCP, IKEv or LTP which will depend on your personal preference.
So, which service is the best? ExpressVPN offers more security features than SurfShark and provides a higher level of protection for your data.
If security is your main concern, ExpressVPN is the right choice for you.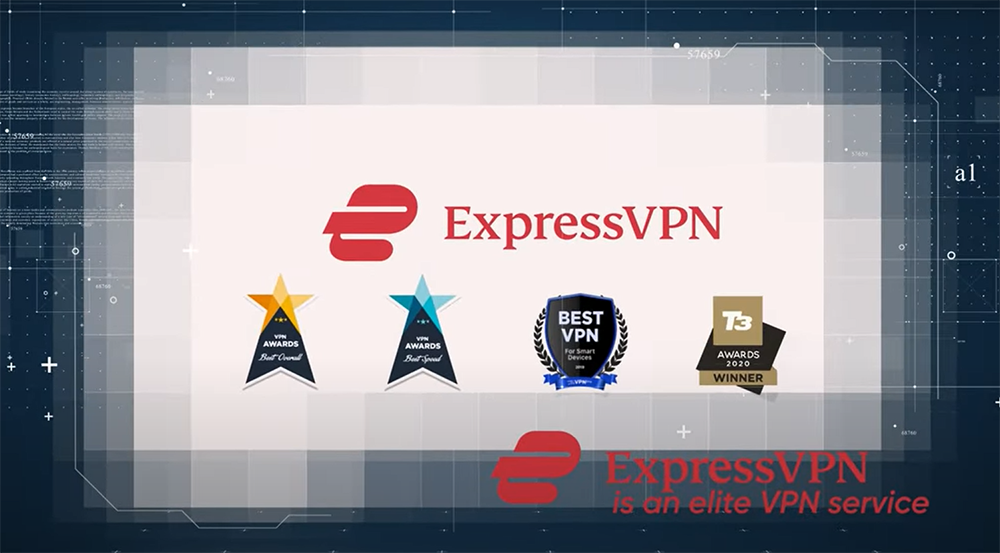 Logging Policies
One more important part of a VPN service is its logging policy. This is the transparency of the company in terms of what data it logs and for how long. It means that the users understand what data is being collected and how they can use it. This information may vary from one VPN service to another depending on their internal policies.
ExpressVPN is a no logs VPN service. Surfshark is a bit more complicated, as it keeps some connection logs for up to 30 days. However, these logs do not include any user data or activity.
If you value your privacy, you should always go for a no logs VPN service. ExpressVPN guarantees that it will not collect any data from the users and thus there is nothing to hand over or share with third parties.
Remember that a VPN service is only as good as its logging policy. If the company does not keep any logs, it cannot share them with anyone – even if asked to do so. This is why ExpressVPN is one of the best and most trusted VPN providers in the industry.
But be careful. Some companies may claim to be a no-logs VPN service but actually keep some data. Always make sure to read the privacy policy and understand what is being logged before signing up.
Usually, you can find out about a VPN service's logging policy by reading its privacy policy. However, some services make it difficult to find this information or do not have a privacy policy at all. If you are looking for a safe and secure VPN, be sure to do your research before making a purchase.
Remember, your data is precious and you should never trust a VPN service that does not have a strong logging policy.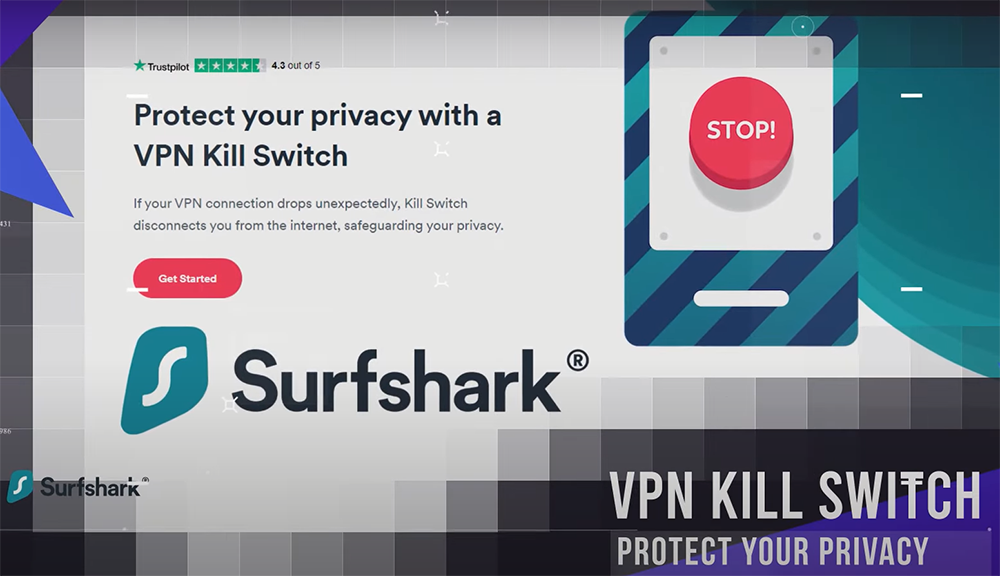 The bottom line is – if you want a no-logs VPN, be sure to do your research and check what data the company collects from its users before signing up for it. Also, make sure that there is a clear privacy policy that establishes how user data will be used and protected.
Unlimited Bandwidth
The next thing to look at is bandwidth. Unlimited bandwidth means you can use the VPN as much as you want without worrying about hitting a cap. Moreover, you can use it for streaming, torrenting, and gaming without any issues. It means that you can browse the Internet without limitations, watch movies or TV shows online, download files and share them with your friends.
With unlimited bandwidth, many users are using VPN services to get access to region-restricted websites while they travel abroad. For example, if you live in France but want to visit the BBC website while being on vacation in Australia – it will be possible with a VPN service that offers unlimited bandwidth.
With a VPN, you can always be sure that your online activity is private and secure. It also allows you to bypass geo-restricted websites and access content from all over the world.
The best way to understand how much bandwidth you need with a VPN service is by checking what speeds it offers on their website or FAQ section. You might want to consider a VPN service with unlimited bandwidth if you are going to use it for streaming or gaming.
Both Surfshark and ExpressVPN offer unlimited bandwidth which is perfect for streaming, torrenting, and gaming. They also offer high speeds which will make sure that you don't experience any delays or buffering.
So if you want to use the VPN for streaming, torrenting or gaming – unlimited bandwidth is an essential feature. You can use any of the two VPNs without any concerns.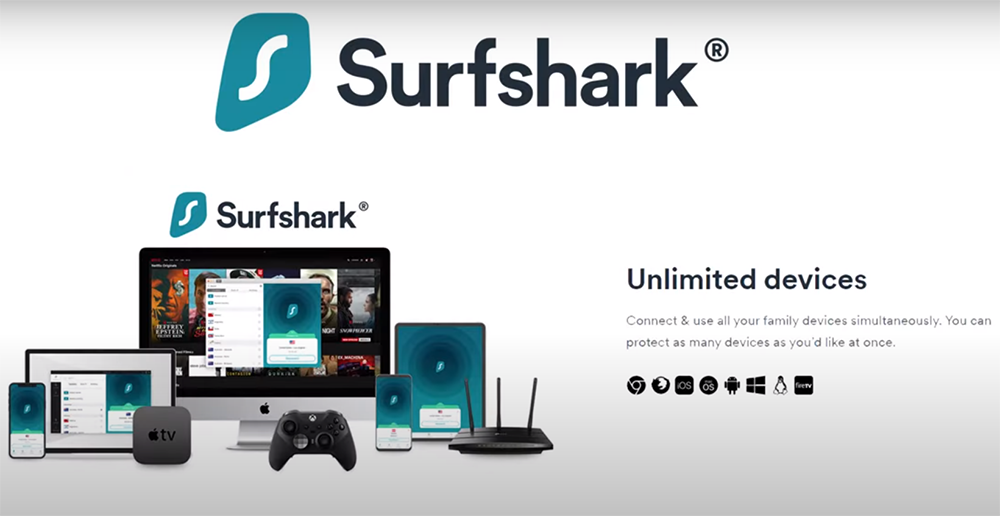 User Interface
The user interface is one of the most important aspects of a VPN service. A good user interface makes it easy to use the service, while a bad user interface can make using the service difficult and frustrating. Moreover, a good user interface can make it easier to find the features you need.
There are a few things to look for in the user interface. First, is there a map? The more VPNs rely on an actual map to display where you are connecting from and the location of your servers, the better. A good VPN will also tell you which server is closer to you in order to achieve faster speeds.
Often, companies include their best features in their desktop apps while relegating others to mobile apps or their website.
Finally, look for a company that is constantly updating its user interface. As technology changes and new devices come out, companies should update their user interfaces to reflect these changes. If a company does not update its user interface, it is likely that the company is not keeping up with current technology trends.
Surfshark and ExpressVPN both have excellent user interfaces. Surfshark's user interface is slightly better, as it includes a map and tells you which server is closer to you. Additionally, Surfshark is constantly updating its user interface to reflect changes in technology. ExpressVPN also has a good user interface, but it does not include a map.
However, ExpressVPN's interface is better than Surfshark's in one respect – it includes more features. While both companies have desktop and mobile apps, ExpressVPN also has a browser extension. This extension allows you to use ExpressVPN on any website, which is a valuable feature.
In addition, ExpressVPN's desktop app has more features than its mobile app. This is frustrating, as you may not have all the features you need when using a VPN on your phone. However, Surfshark's mobile app has more features than its website. This makes it easier to use Surfshark on your phone.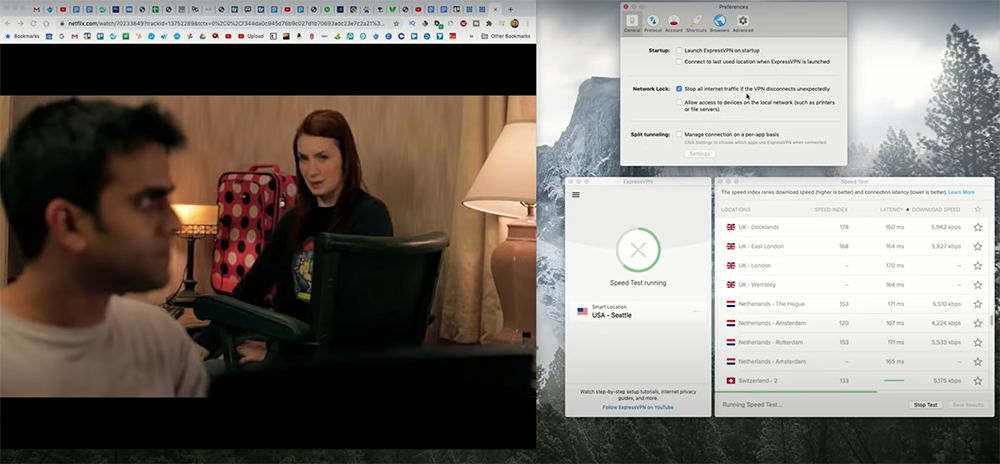 Both Surfshark and ExpressVPN have excellent user interfaces, but Surfshark is slightly better due to its map feature and more frequent updates.
Anyway, you should always remember that you will use VPN almost every day so the user interface should be comfortable for you. It does not matter which company you choose, just make sure that their VPN works with your devices and has a user interface that is easy to use.
Company & Jurisdiction
Another aspect that should be taken into consideration when choosing a VPN is its jurisdiction. Since the companies that operate in countries with strict data retention and surveillance laws can be compelled to hand over your data, it's much safer to choose one from a place like Panama where no such law exists or Iceland where consumer protection runs high.
Moreover, places as the US and UK are also known for their aggressive stance against torrenting. The US has even threatened to fine people $150,000 for copyright infringement offenses, while the UK has gone as far as to block access to websites that host torrents.
Be aware of the jurisdiction of your VPN provider, and consider whether you're comfortable with them having access to all your data.
For example, Surfshark is a VPN provider with headquarters in the Netherlands. The Netherlands is a member of the 14 Eyes surveillance alliance, so there's some cause for concern. However, Surfshark assures its users that it does not store any logs and that even if they were to be requested by the authorities, they wouldn't be able to provide any information because they don't keep track of it.
ExpressVPN is a provider with headquarters in the British Virgin Islands (BVI). The BVI is an offshore jurisdiction and does not have any mandatory data retention laws. This means that ExpressVPN is not required to keep any logs of its users' activities. Moreover, it also means that the company is not obliged to share any information with other countries.
So, if you want to go for a VPN that has no jurisdiction in any of the 14 Eyes countries and is also not obliged to hand over data because it doesn't keep logs, then ExpressVPN might be just what you need.
Remember that VPNs located in 14 Eyes countries and having to share data with their respective governments can provide you with a secure service as well. It's just that there is more risk involved, so it's up to the user whether or not they want to take those risks for better performance. However, if you're looking for a more secure service, then it might be best to avoid VPNs from 14 Eyes countries.
Netflix & Streaming
The major reason why people use a VPN service is to unblock Netflix and other streaming services while abroad. I mean, would you subscribe to a VPN service if it didn't unblock anything? That's like buying an umbrella when the sun is shining.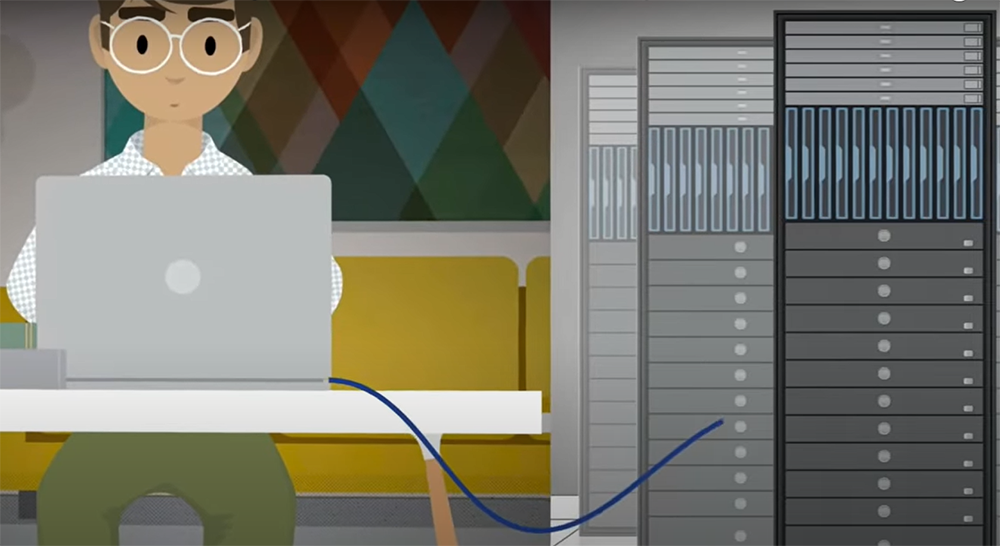 Netflix is currently available in almost every country. However, not all countries have the same library of Netflix shows and movies available. Netflix has been very successful since its beginning as a movie rental service by mail back in 1998. By 2007 it had expanded to Canada and several European countries. The next year it went international and became available in over 130 countries.
The Netflix library is different in every country because of licensing agreements with movie studios and other content providers. For example, the United States has a much larger selection than Canada. This is because the US has more subscribers than any other country, so Netflix makes more money to buy more shows.
So, does this mean you can only watch the Netflix library in your home country? No! You just need to connect to a VPN server that is located there and voila – all of the content will be available for you. And if you're traveling overseas but still want access to your favorite TV show or movie, just connect to a VPN server in your home country.
Streaming also requires fast speeds, so you'll need a VPN that has fast servers and good bandwidth. This will reduce buffering issues.
So, how did we find this out? We tested both of these VPN services by connecting to a server in the US and then tried accessing Netflix. This will test the speeds, bandwidth, and ability of that specific VPN service to unblock it successfully.
ExpressVPN is one of the few VPN services that actually worked with Netflix when we tested it out. We've tested ExpressVPN's unlocking capabilities, and it worked perfectly for Netflix streaming even though we were connected to a server in Canada (therefore without US access).
ExpressVPN also unblocks Hulu and other streaming services like Amazon Prime Video. So should you get this VPN service if all you care about is Netflix? I think the answer is yes!
However, SurfShark also worked perfectly with Netflix when we tested it out. We also found that Surfshark unblocks Amazon Prime Video and Hulu, so you can use this VPN for streaming your favorite shows too.
So, if you are looking for a VPN service that unblocks Netflix, Hulu, and Amazon Prime Video, then both of these services are great choices.
Torrenting
The next thing we looked at was torrenting. Torrenting is a very popular use of VPNs. People all around the world use them to download and upload content from peer-to-peer file-sharing services.
Usually, when you torrent something, your IP address is exposed to the world. This can be dangerous, as it makes you an easy target for copyright trolls and other legal entities that may want to take action against you.
A VPN can help protect you from this by masking your IP address. It does this by routing all of your traffic through its servers. This way, your real IP address is never exposed. In addition, a VPN can also help you bypass any geo-restrictions that may be in place.
Both Surfshark and ExpressVPN are great for torrenting. They both have robust networks of servers that can handle heavy traffic loads. They also both offer strong encryption, which will keep your data safe from prying eyes.
However, there are a few differences between the two. First, Surfshark is a bit cheaper than ExpressVPN. Second, ExpressVPN allows you to torrent on all of its servers, while Surfshark only allows torrenting on specific servers. Finally, ExpressVPN has a slightly better connection speed than Surfshark.
Overall, both VPNs are great options for torrenting. If you're looking for a cheap option, Surfshark is the best choice. If you want the best connection speed, ExpressVPN is the way to go.
Please remember that torrenting is illegal in some countries, so always consult a legal professional before doing so. Moreover, neither Surfshark nor ExpressVPN is liable for any legal issues you may encounter while torrenting.
Tip: You can use a VPN to torrent safely, but you may still need a dedicated torrenting VPN. It all depends on your needs.
Android TV & DD-WRT Support
Many users in the Tech community are curious about Android TV and DD-WRT compatibility. They are two very different products on the surface, but both are heavily used by power users.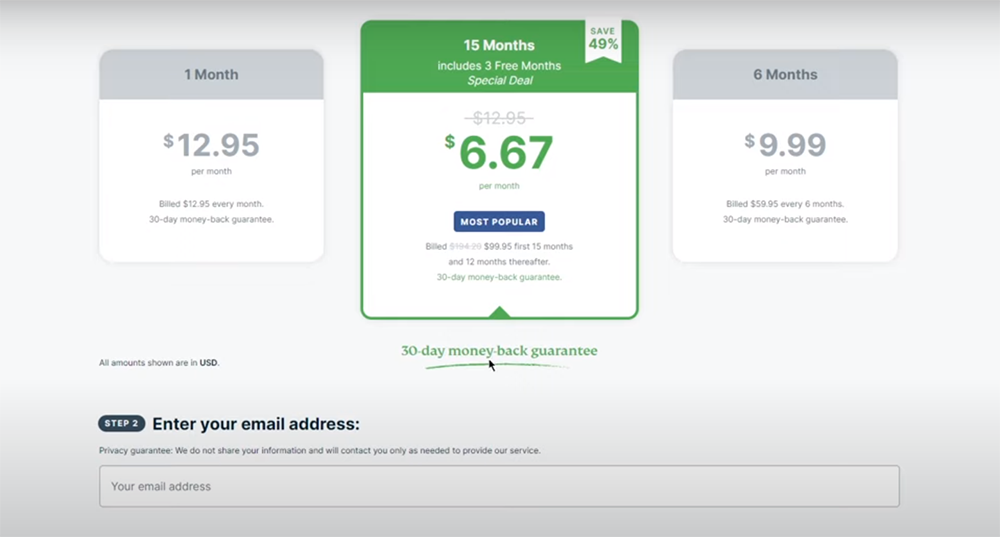 The first factor to consider is the device that you plan on using for streaming your VPN service. Android TV boxes are similar in performance to gaming consoles, so there's no need for a high-powered VPN connection or any advanced features like Killswitch support.
DD-WRT routers, on the other hand, are more like PCs in that they can be used for a wider range of activities. This means you'll want to make sure your VPN service has features like Killswitch support and split tunneling if you plan on using your router for gaming or streaming video content.
The next thing to consider is whether you want a VPN that is easy to use or one that gives you more control over your connection. Many users prefer the ease of use that comes with a pre-configured Android TV box, while others prefer the flexibility and control they get with a DD-WRT router.
Finally, you'll want to look at the price of each VPN service, since you'll need both for your DD-WRT router and Android TV box. Surfshark is definitely cheaper than ExpressVPN in this case.
Overall, both Surfshark and ExpressVPN are great choices for Android TV boxes and DD-WRT routers. Surfshark is a bit more limited in features, but it's still a great choice for basic streaming and privacy needs. ExpressVPN offers more features and flexibility, making it a good choice for users who need more control over their VPN connection.
If you want a VPN for your Android TV box, Surfshark is a clear choice. If you plan on using a DD-WRT router with your VPN service instead, ExpressVPN might be better suited to your needs.
Plans & Pricing
One of the most important factors when choosing a VPN service is the price. Price is an important factor because you want to make sure that what you are getting is worth the money. In addition, you do not want to overpay for a VPN service.
Price usually depends on the service that you are getting. If the plan is more expensive, then it usually means that there will be extra features included in the VPN package.
Both Surfshark and ExpressVPN offer affordable plans with a number of extra features. For example, you can save more on your plan if you pay for longer periods at once. In addition to this, both VPNs have been offering yearly deals that are considered as one of the cheapest among other providers in the industry today.
In terms of pricing, here is a comparison between the two providers:
Surfshark: Surfshark offers three plans. The first plan starts at $11.95/month and it comes with unlimited data transfer speeds along with protection for up to five devices per account. Their second plan is priced at $34.42 for every 6 months. The third plan is priced at $52.83 for every 27 months.
ExpressVPN: Express VPN has three pricing tiers, as well. The first plan is priced at $12.95/month. Their second semi-annual plan is priced at $59.95, which is equivalent to $12/month. The annual plan is their third pricing tier and it's priced at $99.95/year.
Both providers offer a 30-day money-back guarantee, so you can test out their service before committing to a longer plan.
However, neither of them offers a free trial, so you can not try them out without actually paying for the service.
Remember to take your budget into consideration before signing up for a VPN plan. In addition to this, you have to consider the number of devices that will be connected at once and your online activity as well.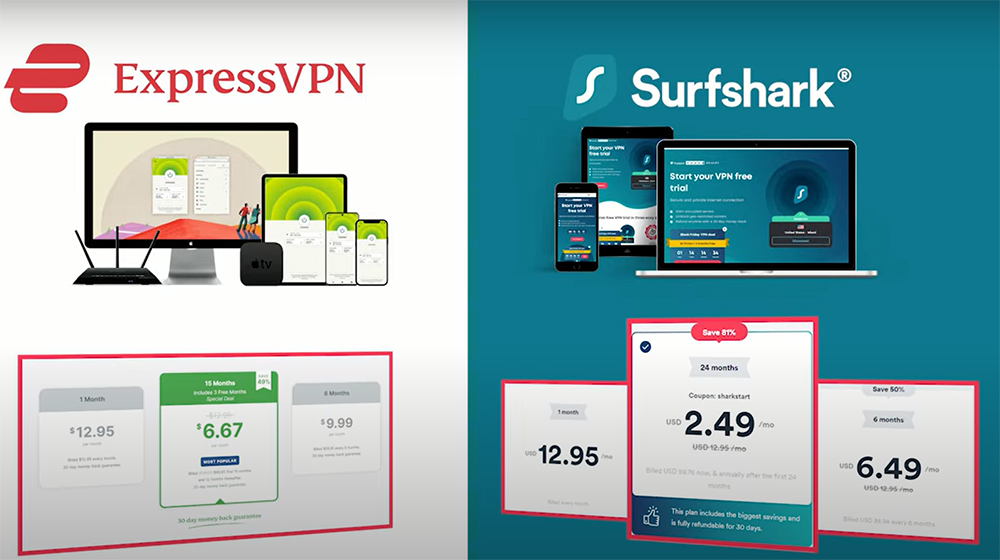 The prices are quite similar between Surfshark and ExpressVPN so the best thing that you can do is choose which one offers more features according to what you need most. Both providers are great, but Surfshark might have a slight edge because of its low price.
Make sure to test out their service before making a decision, though.
Customer Support
The next important factor we looked at was customer support. Customer support is vital for VPNs because if something goes wrong, you need to be able to reach out for help. They need to be available around the clock and live chat is often best. Moreover, knowledge bases, ticket submission systems and self-help resources are very important.
We awarded higher points to VPNs that were available around the clock (some only work during business hours) because it is essential for users who need support at any time of day or night. We also preferred providers with a good knowledge base where detailed information about how to use the VPN and how to fix problems is readily available. We researched all of this information for you so we could compare these VPNs head-to-head.
ExpressVPN's support team showed themselves to be very knowledgeable and helpful. Their answers were comprehensive and useful.
Surfshark's customer support is available around the clock. They don't have a knowledge base, but they do offer email support and live chat. They usually reply within minutes in chat, which is great. However, it takes more time if you need to raise a ticket.
Workers at Surfshark were friendly and knowledgeable. We contacted them on live chat a few times and received helpful responses within minutes.
In our Surfshark vs ExpressVPN comparison, ExpressVPN came out on top when it comes to customer support. They are available 24/7, have a great knowledge base and offer live chat. Surfshark is also available around the clock, but they don't have a knowledge base. However, their live chat support is excellent.
FAQ
Is Surfshark a reliable VPN?
With over 3000 servers in 65 locations, Surfshark is one of the biggest VPN providers on the market. The fact that they're relatively new to this industry does not seem to have affected their ability to provide reliable service as well as top-notch security and privacy protection.
Is ExpressVPN worth it?
ExpressVPN has been one of the most reliable VPN services for several years. They are known to have fast servers that can stream HD content without buffering, making them one of the best options on the market.
Who really owns ExpressVPN?
ExpressVPN was founded in 2009 by two Skype employees who wanted to find an alternative way for people to protect their privacy online. The company is headquartered in the British Virgin Islands, but also has offices located in Hong Kong and Turkey.
Is Surfshark VPN owned by China?
No, Surfshark is not owned by China. The company is registered in the Netherlands and has no ties to the Chinese government.
Does Surfshark slow down the internet?
No, Surfshark does not slow down the internet. In fact, their speeds are some of the fastest on the market.
Why is my VPN not working?
There could be a number of reasons why your VPN is not working. One common issue is that the server you're trying to connect to may be overloaded or down. Make sure you are selecting the correct server and try again. If the problem persists, please contact customer support for assistance.
Is ExpressVPN free?
No, ExpressVPN does not offer a free version of their service. However, they do have a 30-day money-back guarantee for anyone who does not feel satisfied with the service.
Is Surfshark a good VPN for gaming?
Yes, Surfshark is an excellent VPN for gaming. Their fast speeds and low latency will allow you to enjoy online games without any lag or disconnections. Moreover, their strict no-logs policy means that your activities will not be tracked or monitored.
Can I use Surfshark on my router?
Yes, you can use Surfshark on your router. In fact, they offer a number of pre-configured routers that are compatible with their service. You can also set up Surfshark on your own router if you prefer.
Is ExpressVPN good for torrenting?
Yes, ExpressVPN is a great VPN for torrenting. They have servers that are optimized for this activity, and they do not keep any logs of your activities. You can also use their encrypted proxy extensions to bypass geo-restrictions and protect yourself from surveillance.
What is ExpressVPN's logging policy?
ExpressVPN does not log any activity that takes place while using their service. They also do not keep records of the websites you visit or the files you download.
Useful Video: Surfshark vs ExpressVPN Review 2022 ✅ Side-By-Side Comparison
Final Thoughts
Now you know all about Surfshark and ExpressVPN. So which one should you get?
Well, to be honest, both VPNs are great choices in their own way! If we had to pick a winner though, we would go with Surfshark for two main reasons.
One, the price is great and you get a premium VPN without having to break your bank! Two, it works well on all major platforms which makes using your VPN just that much easier and more convenient. In addition, Surfshark is one of the few VPNs that actually unblock Netflix US so if you're looking to stream some shows while abroad, it's a great choice.
ExpressVPN is slightly better than Surfshark in some aspects but we feel like the latter has its own advantages as well making it a close call between these two providers. ExpressVPN is also a great VPN and has some features that Surfshark doesn't have. However, it is more expensive and we understand that might not be ideal for everyone. If that's the case, Surfshark is still a great choice and will definitely do the job!
If you can't decide then check out our top recommended VPNs page or read what other people have said about their experiences with both of these services by checking out their reviews online!
We hope this article has been helpful and provides some insight into Surfshark and ExpressVPN. If you have any questions or comments, feel free to leave them down below!
Thanks for reading!