---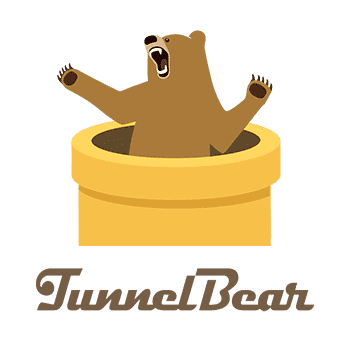 Strong AES 256-bit encryption
Safe WiFi Protection
500MB Free
Servers in 41+ countries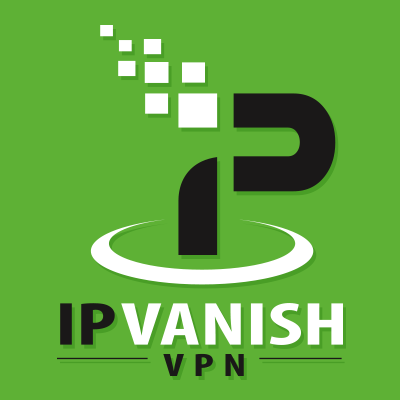 Servers in 75+ regions
Shared IP addresses
Money-back guarantee
24/7 live chat
---
Choose the Best VPN Between IPVanish vs TunnelBear
Customer's Choice: the Best Rated VPN Service in This Comparison
7 users answered this survey. Please help us improve this review!

71.43% of users selected TunnelBear, 28.57% selected IPVanish. Every month we analyze your answers and change our rating.
IPVanish and TunnelBear are both popular options for those looking for a virtual private network (VPN) provider. Both offer high levels of security and privacy, with features such as no logging policies and multiple device support. However, there are some key differences to consider when deciding between the two.
For example, when it comes to device compatibility, both VPNs offer support for popular systems such as Windows, Mac, iOS, and Android. However, IPVanish also offers support for routers and other devices such as Amazon Fire TV and Chromebooks.
In terms of pricing, IPVanish offers various plans ranging from monthly to yearly options. Their annual plan is slightly cheaper at $6.49 per month compared to TunnelBear's $9.99 monthly plan (or $3.33 per month with their annual plan for both VPN providers). However, TunnelBear does offer a free option with limited data usage for those just looking for basic VPN services [1].
VPN providers are becoming more popular as people become more aware of the dangers of using public Wi-Fi networks. In this blog post, we will compare two of the most popular VPN providers: IPVanish and TunnelBear. Most experts will discuss the features of each provider, as well as their pricing and customer service. We hope that this information will help you decide which provider is right for you!
IPVanish Review: The Best Customer Support!
If you're looking for a VPN provider that offers a wide range of features and supports multiple devices, IPVanish is a great option. With over 2000 servers in more than 75 locations, it's one of the largest networks out there. And it's torrent-network friendly, making it great for p2p sharing.
Encrypted web browsing is a key feature of IPVanish. Not only does it keep your data safe, but it can also help you access blocked websites and content. And with support for multiple device connections, you can use it on all your devices.
One thing to note is that IPVanish does not keep logs of your data. So you can be confident that your activities are private. And if you're not satisfied with the service, there's a money-back guarantee.
Split tunneling is another great feature of IPVanish. It allows you to route some of your traffic through the VPN while other traffic goes directly to the internet. That way, you can choose which apps use the VPN and which don't.
A kill switch is an important security feature for any VPN. And IPVanish has a good one. If the VPN connection drops, it will automatically block all internet traffic to prevent your data from being exposed.
DNS leak protection is another useful security feature. It ensures that your DNS requests are always sent through the VPN, even if the connection drops. That way, your ISP can never see what websites you're visiting.
Speed is always an important consideration when choosing a VPN provider. And IPVanish has good download speeds. Over 40,000 anonymous IP addresses are available, so you're sure to find a fast connection. And it can unblock Hulu and Netflix US, so you can stream your favorite shows and movies without restriction.
Finally, IPVanish offers a choice of protocols so you can choose the one that best suits your needs. Whether you need the highest security or the fastest speeds, there's a protocol for you. And there's no limit on the number of devices you can use with the service. So it's perfect for households with multiple devices.
IPVanish is a great option for those who want a wide range of features and support for multiple devices. It offers good security measures, such as encrypted web browsing and a kill switch. And it has good download speeds with over 40,000 anonymous IP addresses available. The only downsides are the lack of some streaming options and better customer support.
---
TunnelBear Review: The Best DNS Servers!
TunnelBear is a quick and easy-to-use VPN service that is budget-friendly and user-friendly. It offers a free plan with 500MB of data, and its annual and detailed third-party audits make it a great choice for privacy-conscious users.
Its user-friendly interface, funny bear-related design, intuitive browser extensions, and mobile apps make it a good choice for casual users who seek simplicity and quick installation.
Its strong security options, up to 5 devices can be connected at the same time, and no-log activity makes it a good choice for privacy-conscious users.
Additionally, TunnelBear is user-friendly, with a funny bear-related design and intuitive browser extensions and mobile apps. In addition, if you're looking for security, this VPN has got you covered, with strong security options and a no-log activity policy.
However, its lack of WireGuard support, split tunneling only on Android, issues with the Windows kill switch, and very few advanced features make it a less ideal choice for power users.
If you're new to the world of VPNs, TunnelBear is a good option to start with. It's easy to use and has a clean and simple design. Plus, it has cute bear-themed graphics that make it fun to navigate.
TunnelBear offers apps for all major operating systems as well as browser extensions for Chrome and Opera. In addition, you can use it on five devices simultaneously, making it perfect for households or those who have multiple devices.
One thing to note is that TunnelBear doesn't offer as many servers as some other providers do. However, they do have servers in 20 countries, so there's likely one near you for speedy connections.
---
Comparison of IPVanish vs TunnelBear
Speed
The speed of your VPN service is based on a variety of individual factors, including the server you're using, its location, and your internet provider's plan.
IPVanish has more than 1,300 VPN servers in 75 locations. Speed is usually one of the premier factors that people look at when choosing a VPN server; however, it's not nearly as important as some of the other features offered by IPVanish [2].
Servers
IPVanish boasts over 2000 servers spanning 50+ countries and manages its entire network itself – without any help from third parties. On the other hand, TunnelBear has 1800+ servers in 48+ countries but has to rely on others for their server infrastructure.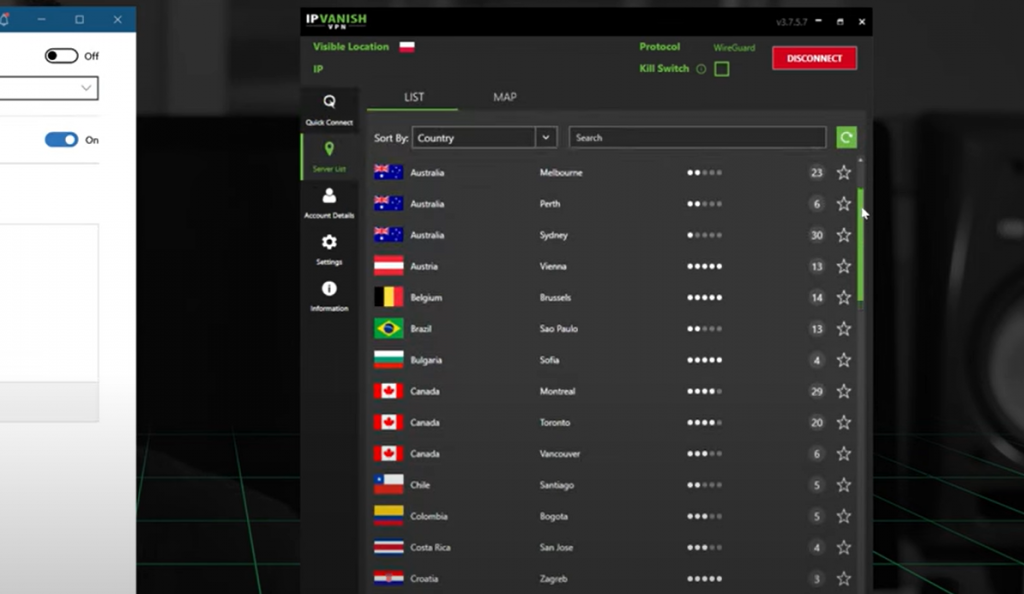 Although neither VPN has RAM-only servers, that's not too uncommon of a feature. Both also permit P2P traffic on their servers; though, if TunnelBear detects P2P activity, your speed will be significantly decreased.
Pricing
Ease of use is one of the things that TunnelBear is most highly rated for. not only do consumers love this VPN because it has a simple user experience and witty interface, but also because it's one of the few VPNs that offer a truly free plan. This plan caps data usage at 500Mb per month, which may be enough for some people who don't surf the web very much. After that, TunnelBear's one-year plan costs $4.99 per month, or $59.88 a year [3].
The paid plans for IPVanish start as low as $6.49 per month, or you can save even more by paying annually at only $77.99. Although the 7-day money-back guarantee is shorter than most others – which are 30 days – how much time do you really need to make a decision?
Security and Privacy
Both TunnelBear and IPVanish have strong security measures in place to keep users' information safe and protected from potential threats. Both offer 256-bit AES encryption and support multiple VPN protocols including OpenVPN and IPSec. They also both have a strict no-logs policy, meaning they do not collect or store any information about your online activity while using their service.
One major difference between the two services is that TunnelBear has an additional feature called "GhostBear", which makes it harder for ISPs and governments to detect and block VPN usage. However, IPVanish offers a unique feature called SOCKS5 web proxy, which can be used for torrenting and adds an extra layer of anonymity when browsing the web.
Device Compatibility
IPVanish is compatible with most devices, including Windows, Mac, iOS, and Android. The only downside is that there are no apps for Linux – you'll have to configure your connection manually.
Amazon Fire TV and Fire Stick apps are available, in addition to Android TV. Although there are no browser extensions, IPVanish routers, firewalls, and NAS (Network Access Storage) can be configured manually. All of that without simultaneous connection limits!
TunnelBear has dedicated apps for Windows, Mac, iOS, and Android platforms. In addition to these mainstream options, there are also browser extensions available for Chrome, Edge, Opera, and Firefox.
Streaming
Although neither of these VPNs has servers specifically for streaming or Smart DNS, they can both still unblock Netflix US. YouTube is also an easy thing to overcome, but you'll have a harder time with BBC iPlayer. If you don't mind taking the extra steps, Tunnelbear can be configured to work with either Kodi or Amazon Fire Stick.
In the end, it's hard to say that one is better than the other. Ultimately, it depends on your specific needs and preferences. If you're looking for a lower price point with a free plan option and ease of use, TunnelBear may be the way to go. However, if you prioritize expansive server networks, unlimited simultaneous connections, and unique features like SOCKS5 proxy, IPVanish may be worth considering. Either way, both VPNs are strong contenders in the market and offer top-notch security measures for users' privacy.
Torrenting and P2P
Both VPNs allow torrenting and P2P activity on their servers. However, as mentioned before, TunnelBear's free plan has a strict limit of 500MB per month. This means that if you want to use it for torrenting, the paid plans would be a better option. Comparatively, there are no limitations to IPVanish's plans.
Additionally, IPVanish offers a SOCKS5 web proxy for added anonymity and security while torrenting. With TunnelBear, there is no such feature available.
Overall, if you plan on using a VPN primarily for torrenting and P2P activity, IPVanish may be the better option. But if that isn't your main priority, either VPN could work well for you.
Customer Support
IPVanish offers 24/7 customer support through live chat, a ticketing system, and email options. They also have extensive setup guides and tutorials on their website for common issues or device configurations. Additionally, they offer remote configuration assistance through TeamViewer for Windows and Mac devices.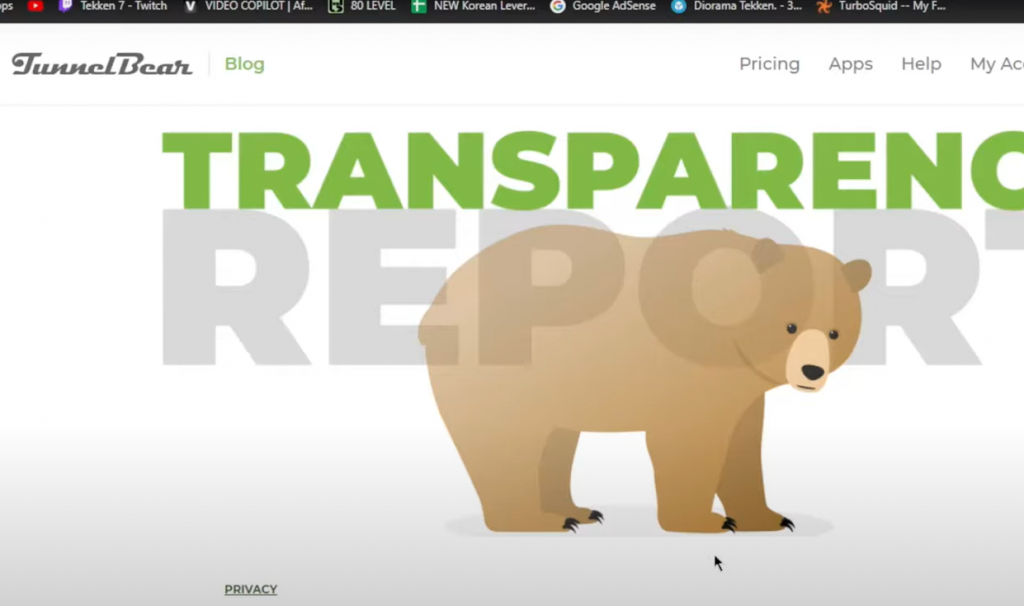 TunnelBear also offers customer support 24/7 through email, Twitter, and Facebook. They have a detailed help center with guides, setup tutorials, and FAQs. However, they do not offer live chat or remote configuration assistance like IPVanish does.
Simultaneous Connections
The best VPN providers allow for multiple simultaneous connections so that you can use the same account on different devices. TunnelBear is one such provider, offering up to six connections on a single account.
IPVanish doesn't limit the number of devices. You can use it on all your devices because it offers unlimited simultaneous connection. Plus, you can also install it on your routers to secure every gadget connected to your network.
For this category, IPVanish can take home the prize[5].
Interface & Usability
Both IPVanish and TunnelBear have intuitive user interfaces and offer apps for all major devices, including Windows, macOS, iOS, Android, and Fire TV. IPVanish can be used on up to 10 devices simultaneously, while TunnelBear allows for only 5 simultaneous connections with their paid plans.
In terms of customer support, TunnelBear offers 24/7 live chat support and has an extensive help center with guides and tutorials. IPVanish also has a help center but does not offer live chat support – they can only be contacted via email or through their ticketing system.
Who Should Use IPVanish and TunnelBear?
IPVanish is a good option for streaming and compatibility. It is also supported by several gaming systems, which makes it ideal for gamers. Moreover, most experts like its user-friendly interface — it's extremely helpful.
On the contrary, TunnelBear is definitely better for beginners. Its clean and straightforward layout makes it easy to navigate. It also offers a number of extra features such as ad blocking and tracking protection. Additionally, it has a free plan that allows 500MB of data per month, making it a great choice for those on a budget.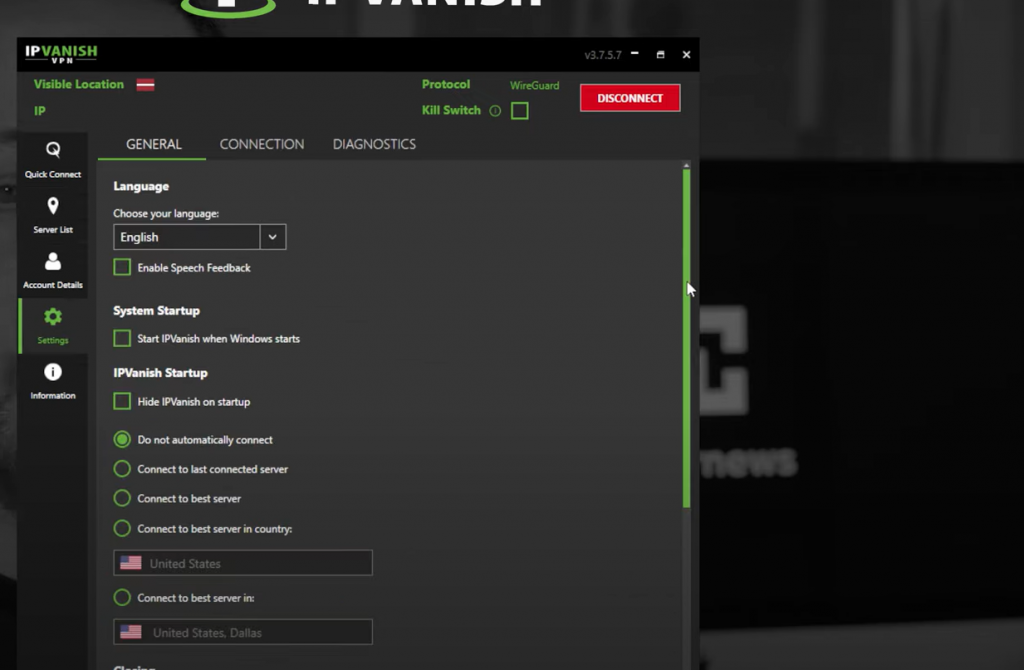 On the other hand, TunnelBear is more suitable for users who value simplicity and ease of use. It also has a cute bear theme that appeals to a wider audience.
Although TunnelBear is declared as a tie with IPVanish in some categories, it actually has more servers and did not face any security or data logs issues in the past. If IPVanish hadn't had any security issues, it would have been the winner. However, data logging is a huge problem for VPNs, which is why TunnelBear takes this victory.
---
FAQ
Can you be tracked using IPVanish?
By connecting to a VPN server, your IP address is hidden with an IP from IPVanish. The best part – is that the same IP is then used by other iPVanish users. Therefore, what you do online can't be linked back to you as an individual [6]. Also,  IPVanish does not log any user information, meaning your online activity is not tracked or stored.
What about TunnelBear?
Similarly, TunnelBear also doesn't track or store any of your personal information and browsing history. However, it has the added protection of a strict no-logs policy that is independently audited by Cure53, an acclaimed security firm in Berlin, Germany. This audit can be viewed on their website for full transparency and assurance to users that their privacy is protected with TunnelBear.
What is TunnelBear's policy on logs and data retention?
TunnelBear has a strict no-logs policy, meaning they do not collect or store any information about your online activity while using their VPN service. They also have a clear commitment to protecting user privacy, as evidenced by their transparency report and public audit of their systems.
Additionally, they have a clear and easy-to-understand privacy policy that clearly states what information they may collect and how it will be used.
Is NordVPN better than IPVanish?
There is no clear answer to this question as it ultimately depends on the individual's needs and preferences. Both NordVPN and IPVanish offer reliable security features such as military-grade encryption and a strict no-logs policy.
However, NordVPN offers more server options with over 5,000 servers in 59 countries, compared to IPVanish's 1,300+ servers in 75 locations. Additionally, NordVPN has specialized servers for torrenting and bypassing censorship, while IPVanish does not.
On the other hand, IPVanish allows for 10 simultaneous connections while NordVPN only allows 6. For those looking to protect multiple devices at once or share their account with family or friends, IPVanish may be the better option.
In terms of pricing, NordVPN is slightly cheaper with longer subscription plans. Ultimately, it is important to carefully consider your own needs and do some research on both providers before making a decision.
What's better – ExpressVPN or IPVanish?
However, there are some key differences to consider when making your decision:
First, ExpressVPN offers faster connection speeds than IPVanish. This can be important for activities like streaming or gaming, where a slow connection can ruin the experience;
In terms of server coverage, ExpressVPN has a larger network with more than 3,000 servers in 94 countries, while IPVanish has 1,500+ servers in 75+ countries. So if you're looking to access content from a specific country or region, ExpressVPN may have better options for you;
Both providers offer unlimited bandwidth and support for up to 5 simultaneous device connections;
However, ExpressVPN allows for split tunneling – the ability to route some of your internet traffic through the VPN while other traffic goes through your regular connection – while IPVanish does not;
When it comes to security features, both providers use AES 256-bit encryption and have a strict no-logs policy;
However, ExpressVPN offers additional features like a kill switch and DNS leak protection, which can provide an extra layer of protection in case of an unexpected disconnection from the VPN;
Does TunnelBear slow down the internet?
When TunnelBear is activated, your data must go through our VPN servers which are secure and encrypted. There might be a slight decrease in speed [7]. However, TunnelBear offers a "Gentle Bear" feature that allows users to prioritize speed over security.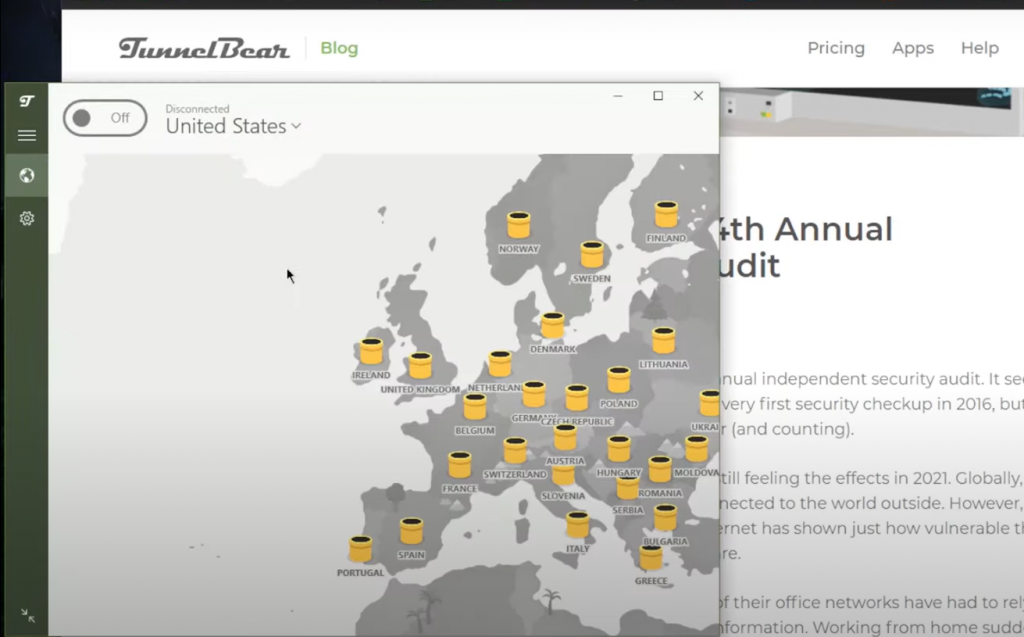 On the other hand, IPVanish claims to have minimal impact on internet speed and also offers unlimited bandwidth for its users. Both VPN providers offer high speeds for streaming and downloading but it ultimately depends on your device, location, and internet service provider.
Is there a free IPVanish version?
You can take advantage of IPVanish's 30-day refund policy to use it for free on all your devices. With one subscription, you can have unlimited connections simultaneously, so this method will work regardless of the type of device you're using.  However, it is important to note that IPVanish does not have a free version with limited features like TunnelBear does [8].
Which one offers better security measures?
Both VPNs use strong encryption protocols such as OpenVPN and IKEv2/IPsec. However, IPVanish offers additional customizable security features such as a kill switch and DNS leak protection. These features can prevent your data from being exposed even in the event of a dropped connection.
Does IPVanish work with Netflix?
Yes, IPVanish has dedicated servers that work with Netflix and other popular streaming services. This allows you to access a wider variety of content from anywhere in the world. Although IPVanish lets you access US Netflix, other VPN services allow access to more Netflix catalogs. NordVPN is the best possible VPN for Netflix because it can access multiple libraries with ease and has great speeds.
However, if you are only looking to use a VPN for US Netflix, then IPVanish is still a reliable choice that will work well [9].
Why is my IPVanish not connecting on Fire Stick?
There could be a few different reasons for this issue:
Firstly, check that your Fire Stick and IPVanish app are both up to date;
If that doesn't solve the problem, try clearing the cache on your Fire Stick or reinstalling the IPVanish app;
You can also contact IPVanish's 24/7 live chat support for further assistance with troubleshooting;
Where is IPVanish based?
IPVanish is a VPN service provider with applications for Microsoft Windows, macOS, Android, iOS, and Fire TV. The company is based in the United States [10].
Does IPVanish hide your location?
Yes, IPVanish offers features such as masked IP addresses and the ability to change virtual locations. This allows users to browse the internet anonymously and access content that may be restricted in their current location.
What is TunnelBear's stance on logging user data?
TunnelBear, like many other VPN providers, has a strict no-logging policy for the user activity. They do collect some minimal metadata for technical and diagnostic purposes, but this information cannot be used to identify individual users or their online activities.
Does VPN protect you from the government?
While a VPN can offer some level of protection from government surveillance, it is not a guarantee. It is possible for governments and other entities to force VPN providers to release user information or even install backdoors in their software. Therefore, it's important to choose a reputable and transparent VPN provider and use caution when engaging in activities that may draw attention from authorities.
What other features do TunnelBear offer?
In addition to VPN services, TunnelBear also offers a feature called GhostBear, which is designed to bypass internet censorship and blocked connections. They also have a handy browser extension for Google Chrome that allows for easy and secure browsing. TunnelBear also offers multi-device support, allowing users to connect up to five devices simultaneously with one account.
Which provider has faster speeds?
This can vary depending on a number of factors, such as the user's location and internet connection. However, in general, IPVanish tends to have faster speeds and more stable connections than TunnelBear.
Ultimately, it is up to the individual to decide which VPN provider best meets their needs based on factors such as pricing, features, speed, security, and jurisdiction. It's also important to research a VPN provider before committing to ensure they are reputable and transparent about their practices.
Useful Video: Tunnelbear VPN Review 2021 🔥 Can It Compete With The Competition?
Final thoughts
In the end, it is up to the individual to decide which VPN provider is best for them. Both IPVanish and TunnelBear offer high levels of security and privacy, with a variety of features that make them attractive options. However, when it comes to the device compatibility, IPVanish has the edge with support for routers and other devices in addition to the standard systems.
---
References:
https://vpnpro.com/vpn-comparison/ipvanish-vs-tunnelbear/
https://www.forbes.com/sites/tjmccue/2019/07/21/review-ipvanish-vs-tunnelbear/
https://www.forbes.com/sites/tjmccue/2019/07/21/review-ipvanish-vs-tunnelbear/
https://vpnpro.com/vpn-comparison/ipvanish-vs-tunnelbear/
https://vpnonline.com/compare/ipvanish-vs-tunnelbear/
https://www.ipvanish.com/isp-tracking
https://help.tunnelbear.com/hc/en-us/articles/360006839792-Why-is-my-Bear-slow-
https://www.top10vpn.com/guides/get-ipvanish-for-free/
https://www.comparitech.com/blog/vpn-privacy/ipvanish-work-with-netflix
https://en.wikipedia.org/wiki/IPVanish