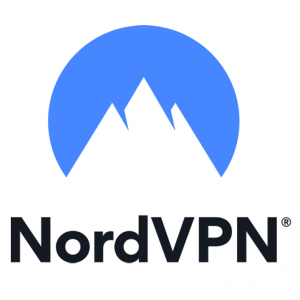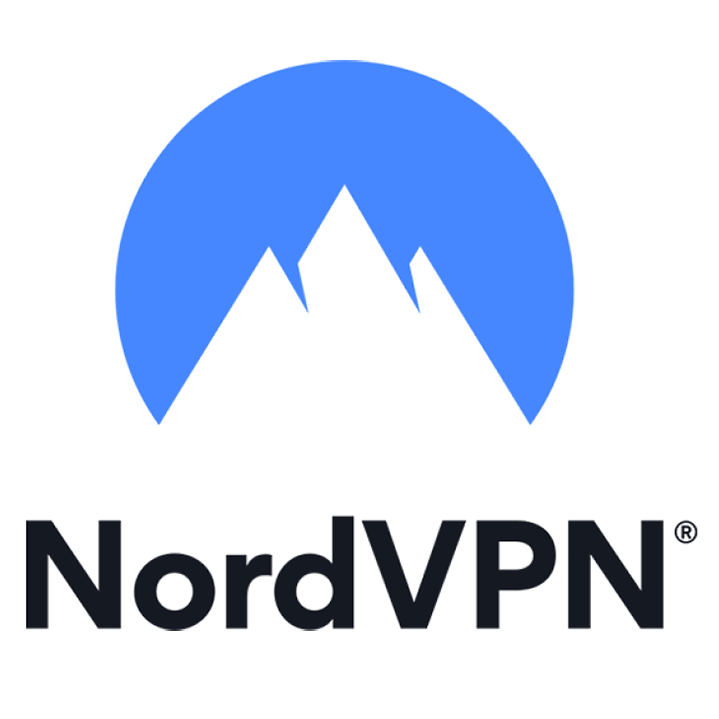 Secure internet
Ultra-fast connection
Strict no-logs policy
Uninterrupted streaming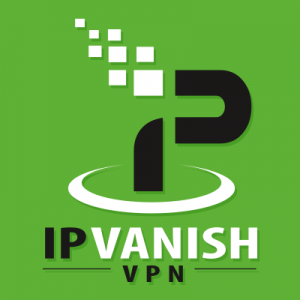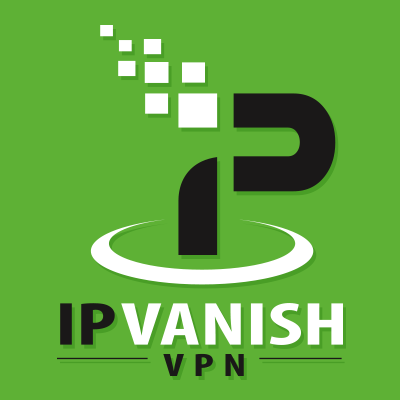 Servers in 75+ regions
Shared IP addresses
Zero traffic logs
Proxy web server
---
Choose the Best VPN Between IPVanish and NordVPN
Customer's Choice: the Best Rated VPN Service in This Comparison
13 users answered this survey. Please help us improve this review!

84.62% of users selected NordVPN, 15.38% selected IPVanishVPN. Every month we analyze your answers and change our rating.
---
Today, when any service which is more or less in demand by users is represented on the World Wide Web by hundreds or even thousands of offers from both well-known providers and companies that have come from nowhere and will go nowhere, it can be difficult to choose the offer that is ideal exactly for your needs. Searching for the right information on the Internet has turned nowadays into an attempt to quench thirst with a fire hose. So, ratings and reviews, where all the necessary information is dispassionately classified and categorized, can greatly ease the pain of the user's choice.
To free you from the necessity to flip endless lists of high-branded and no-named developers, I choose just two unconditional leaders among VPN providers, and it's your turn now to decide which one fits your purposes the best.
Here they are: IPVanish (https://www.ipvanish.com) and NordVPN (https://nordvpn.com).
I hope that detailed testing them according to the down mentioned requirements and options would help you to form your own opinion. There are the checkpoints we are going to make these two champions run through now:
Speed
Features
Connections
Security
Logging Policies
Company & Jurisdiction
Netflix & Streaming
Torrenting
Android TV & DD-WRT Support
Multi-Platform Support
Plans & Pricing
Free Trial
Payments & Refunds
Customer Support
Value
Results
Let's go!
IPVanish
Speed
It depends on a bunch of conditions.
Some of them seriously affect the speed and quality of the connection. First of all, this is the time of day when you want to use this service: during a working day, your Internet can fly through this VPN, reaching 60 Mbps, but on Saturday or Sunday nights it can drop to 30 or even 25 Mbps.
Of course, if you allow the service to choose the countries and servers through which it will lay your route, the speed can even out and grow up to quite acceptable. However, if you prefer to draw lines on the world map yourself, you may become dependent on local conditions. And these conditions can be very different, which cannot but affect the speed and stability of your secure connection.
Anyway, comparing to other VPNs and bearing in mind that this is right the case when it's better to let the service make a decision how to drag you through its encrypted tunnels in the best way to gain the best results, I would say that the speed it can provide is not excellent but very good and sufficient for the most purposes.
Just to convert all these "Mbps" into something tangible: prepare for an average of 30-35% slowdown of your internet connection when using a VPN from IPVanish.
What is necessary to stress: in the USA (or rather to say on US servers) the speed is much higher than in Europe. [1]
4,5 of 5
Features
The mark you give IPVanish for its set of options could wave due to your expectations. If you are ready to get satisfied with the average toolbox which would be more than sufficient for most of your daily routines – you will like this service from the first glance. If you are an advanced hacker (OK, let's say "an experienced system administrator") – the IPVanish's reasonable minimalism probably will disappoint you.
Of course, seeing is believing, so, look, what IPVanish is good at.
The service expects that you will configure it for your purposes. I'd call this feature pleasant enough but a kind of ambivalent. Why so? On one hand – if you are a control freak (as I am) and eager to have each junction under your fingertips – the unplowed field of IPVanish's controls is the real Garden of Eden for you. But if you are looking for a Big Green Button with the words: "Just Press and Forget", I am afraid, the generous variety of options will rather make you say: "Thanks, it's too much" and to leave, looking for something not so complicated.

At this point, you exclaimed: how so? He says that the set of functions is very modest, then he claims that you need to be an expert to understand the abundance of settings. That's just the point: the general set of tools here is not so rich. But to customize the existing ones you need to clearly understand what exactly you're doing and what you will get in the end.
The unique feature of IPVanish is the support of encrypted cloud storage SugarSync that offers 500 GB for your files. Alas, not for free (this cloud had brilliant free options until it was bought by IP Vanish), but the monthly pricing of this bonus is quite affordable. [2]
4,8 of 5
Connections
I love IPVanish for this endless sea of servers and locations! You may choose a city and even the exact server in 75 countries. The total number of servers is more than 1 500. Who needs more!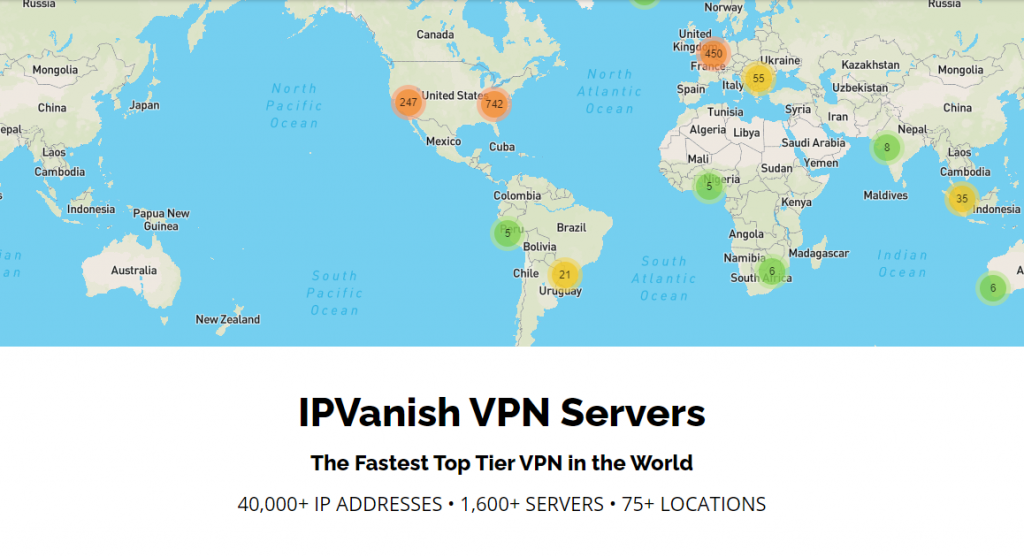 Don't forget: IPVanish doesn't limit the number of your simultaneous connections at all.
5 of 5
Security
As regards this position, IPVanish hits everybody. It supports such protocols: PPTP, OpenVPN, L2TP/IPSec, IKEv2, and UDP & TCP.
The IPVanish's site proclaims that their service doesn't write any logs of your activity. All independent testers prove this statement.

IPVanish provides you with the 256-bit AES encryption – the standard which is widely known as unbreakable and the most reliable. [3] Pay attention: the above-mentioned protocols OpenVPN and IKEv2 are considered the safest for any data transfer.
5 of 5
Logging Policies
As it's just written, IPVanish doesn't log any activity of the service's users.
5 of 5
Company & Jurisdiction
The company is registered in the USA. Of course, not the best place for providing bullet-proof security if we recall Echelon. But I haven't found not even one documented case when the user's data was compromised by IP Vanish.
4.8 of 5
Netflix & Streaming
IPVanish works well with Netflix. But as regards streaming, an unstable speed and the obvious slowdown of internet connection as much as the waving of speed due to the time of the day and the day of the week makes streaming pretty problematic. Of course, you may pull out a lucky ticket and your stream will never be cut off or slowed down. But if you do not want to rely on chance and instead want to always be sure of the reliability of your stream, I think you should pay attention to other services.
Besides the relative speed instability, please, pay attention that this service doesn't work with Amazon Prime Video and iPlayer. To be brief, the range of streaming platforms supported by IPVanish is regrettably limited.
4 of 5
Torrenting
It seems that IPVanish is made for safe and easy torrenting. All its servers support the P2P protocol and SOCKS5 proxy. [4] Despite the above-mentioned speed issues, everything that regards torrent sharing and downloading works impeccably due to the special settings and transfer protocols of the service.
If we are going to talk about torrenting in wider terms and include there, for instance, Bitcoin operations and other activity implying peer-to-peer connection, we have to admit that IPVanish is the choice number one for it.
5 of 5
Android TV & DD-WRT Support
The support of these two broadcasting services is far not universal. With Android TV, including Android sticks, IP Vanish works seamlessly. But as for the DD-WRT support, it is proclaimed but most likely you couldn't avoid tambourine dances during its adjusting. IP Vanish offers a script here, but if you are not a geek this extra headache would hardly please you as a free bonus.
The same I may see about Chromecast: you will fail if you decide to provide just straight streaming through this VPN. Some extra software will help you to solve the problem. But ask yourself twice: whether you, buying the program, paid for all this mess?
3.5 of 5
Multi-Platform Support
IPVanish supports all known platforms: Windows, iOS, Mac, Linux, Android (5.0 and higher), and routers. There are some slight differences in use on each OS, but in general, this VPN confidently supports all operating systems. [5]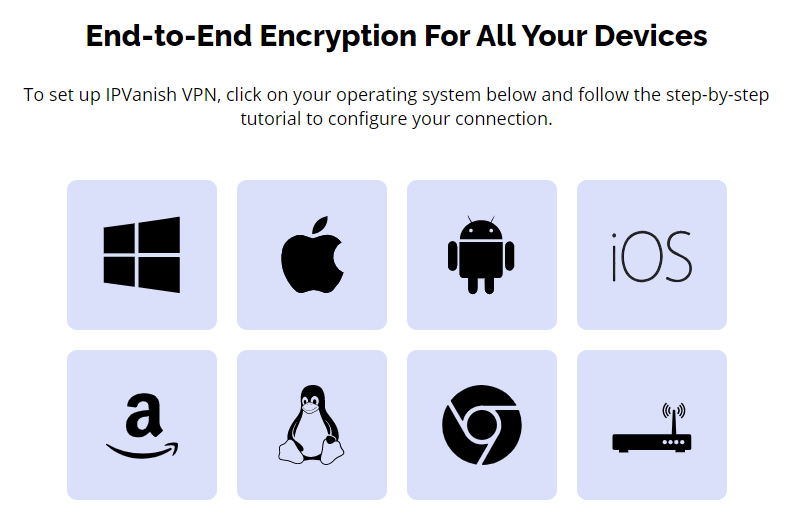 5 of 5
Plans & Pricing
IPVanish offers a quite flexible tariff plan with significant discounts: you may subscribe to this service for a month, for three months, and a year. The minimal cost is $3.49 per month, the maximum $100 per year. But depending on the plan you choose you may decrease your annual payment down to $89.99.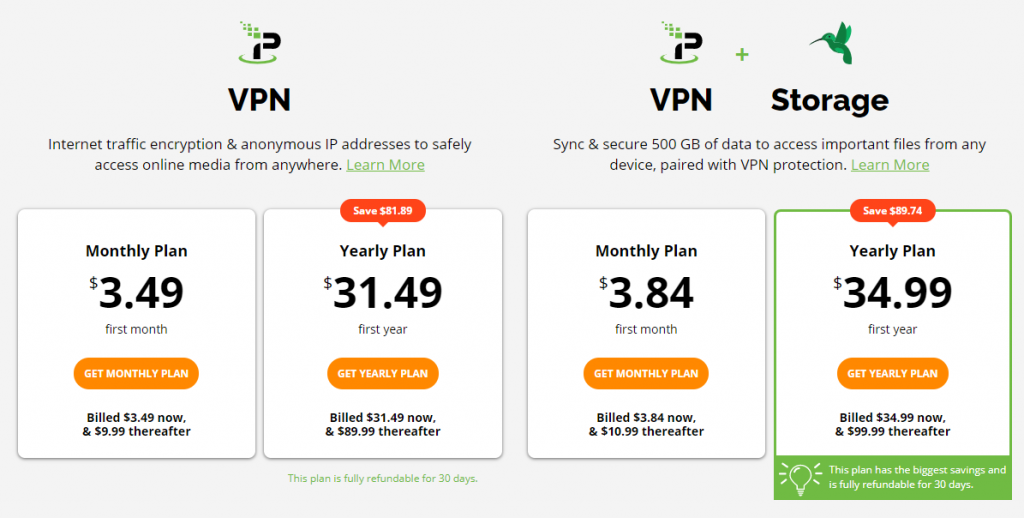 Students and teachers may get a special Students Discount. Also, special coupons are available – not breathtakingly generous but they will help you to save a couple of dollars. [6]
5 of 5
Free Trial
There is no free trial for IPVanish.
3 of 5
Payments & Refunds
As mentioned in chapter 11, the IP Vanish's pricing implies a wide system of discounts. Also, the service guarantees a 30-days refunding in case if it disappointed you. What is highly noticeable – this refunding option is available only in case of a year subscription. [7]
4 of 5
Customer Support
Nearly all reviewers agree that the customer service should be much better. The program losses points in any ranking that you can find on the Web for this very reason.
3 of 5
Value
The IPVanish's price is quite average in the market of VPN services. But despite all advantages, in my opinion, you may find a complex solution for your security both for more affordable pricing and with much richer functionality.
3 of 5
NordVPN
Speed
If you'll open a dictionary on the word "Stability" you can see the logo of NordVPN. Of course, it's a joke, but, once established (it takes around 6 sec. for catching the first server in a chain) your internet connection stays straight and reliable until you decide to switch it off. That's important: European servers provide you with much higher speed than US ones. And, as regards building your VPN routes through the USA servers, it's highly recommended to choose them manually. Practice proves that if you leave it for Nord VPN's decision, results turn out very far from excellent. In general, the slowdown of your connection when you surf through this VPN waves between 17 and 19 percent (compare to IP Vanish's 30-35%).
5 of 5
Features
If you have some basic knowledge about the most vulnerable areas in your system, you know everything regarding DNS. If you aren't an expert, it's OK, this review is written for you. Let me explain. DNS (domain name system) is just a giant hole, one might say, a real gate in the fence, which should protect your digital life from prying eyes. In particular, Google reveals all he wants about each step, looking at your computer right through the DNS binocular. If you don't take measures to replace your real DNS with a fake one, all your attempts to protect your privacy will stay futile. [8]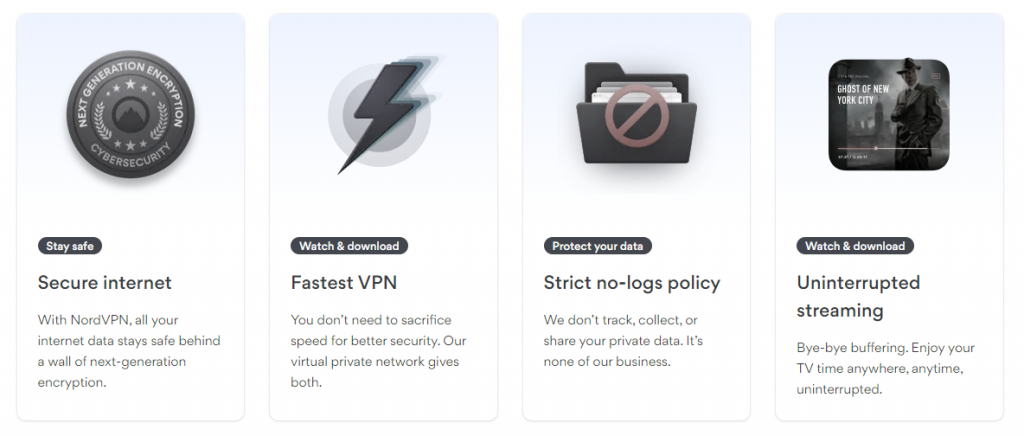 It's strange to find out, but not all VPN services provide you with the option of DNS replacement. Or, even if they have such an offer in their basket, the process of adjusting your system appears so complicated that most users just hang it on and – as a result – pay to VPN providers for glass tunnels. Usually, the DNS problem hides not in your computer but your router, so this is the plays that you cannot omit if you take care of your reliable safety.
Unlike others, NordVPN offers you two DNS servers. You should integrate them into your router (which is usually stays set up by default for years and years) and provide yourself with real anonymity.
This is not the only worth mentioning option of NordVPN, of course. But as for me, it shows very brightly how deeply this application cares about your all-around protection.
5 of 5
Connections
5409 servers of NordVPN are spread over more than 60 countries. Looks a bit strange comparing with IPVanish whose servers are placed in 75 locations but the total amount of these servers waves around figure 1 500. Whatever, as we saw above figures by themselves can't give you an objective picture. Practice is the only trustful criteria for any information. Our field testing proves that on some certain conditions (avoiding the program's automatic selection of "the fastest" servers in the USA, for instance) Nord VPN provides us with a stable speed that is high enough for any purposes. [9]

5 of 5
Security
For a first glance, just calculating the number of protocols and looking at the algorithm of encryption, we could decide that NordVPN and IPVanish are even. But why not dig a bit deeper and compare all the security features of both services one by one?
As regards encryption of the data transferred through IP Vanish and Nord VPN tunnels, both services use the AES 256 algorithm. Some reviewers consider the 4096-bit key used by Nord the stronger than the 2048-bit one by IPVanish, but as for me, to discuss which of these two keys could be broken first is the same as to talk in terms of Lobachevsky's geometry. This mathematician claimed that parallel straight lines under certain circumstances can intersect somewhere in space… in the Euclidean world familiar to us, the security and resistance to the hacking of these two crypt algorithms can be considered parallel, that is, equal.
Comparison of the sets of protocols that use NordVPN and IPVanish is not so unambiguous. Let's see.
There are the protocols the IP Vanish's service is based on IKEv2, L2TP/IPSec, OpenVPN with TCP/UDP.
Here is the assortment of Nord VPN: PPTP and SSTP, OpenVPN with TCP/UDP, L2TP/IPSec, IKEv2/IPsec, and WireGuard. The last should be implemented through NordLynx that exists only among Nord VPN's tools.
No big difference, isn't it? Some experts consider PPTP not strong enough. So what, who keeps a user from using L2TP/IPSec, IKEv2/IPsec, or even exotic WireGuard?
NordVPN also has some efficient security tools (like kill switch, for instance) and this fact also adds a few points to the already high assessment of the safety level of this program.
But what is the most convincing for me – it's the report of an independent audit whose experts haven't managed to find any leaks in this service.
5 of 5
Logging Policies
It looks like high-rated VPN services don't log user's activity by default. So, Nord VPN doesn't collect any tracks of your transfers. [10]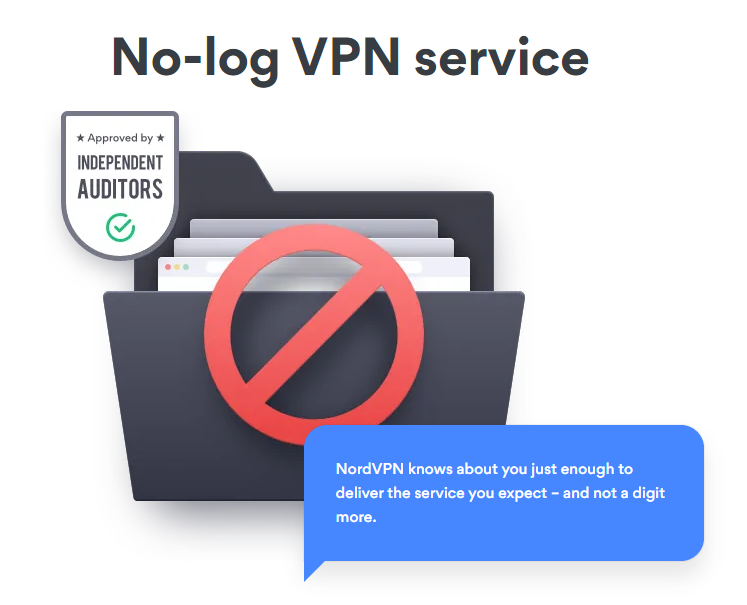 5 of 5
Company & Jurisdiction
That's important: the company is registered in Panama, so there are no laws like the so-called "14 eyes agreement" that could make the provider of Nord VPN open any bit of your data to anybody as much as there is no service or authority who could oblige the developers to provide backdoors in their program.
5 of 5
Netflix & Streaming
Yes, of course, NordVPN supports Netflix (otherwise how would it appear in our review?). The same we should say about streaming: Nord VPN's servers guarantee a smooth and stable connection – the conditions necessary for joyful watching of video in 4k. But this is just a small part of this service's abilities in this area. Besides Netflix NordVPN easily works with Amazon Prime, Hulu, BBC iPlayer… What else? I don't know, probably everything. At least during the tests, no one of famous and even exotic video services was not rejected by this VPN. [11]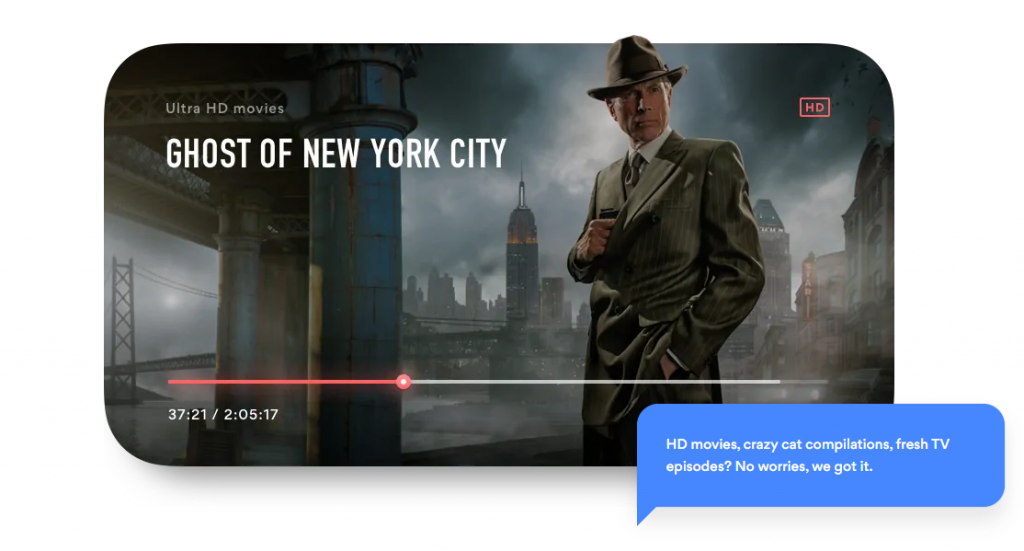 5 of 5
Torrenting
In any kind of torrenting NordVPN as good as in work with streaming services. Availability of dedicated servers and efficient protocols designed specifically for P2P transfers turns managing these tasks into pure pleasure.
5 of 5
Android TV & DD-WRT Support
As I wrote above, Nord VPN seems being created for work with different streaming services and it would be strange if it wouldn't support the platforms whose main purpose is to provide such services. So, neither Android TV nor DD-WRT are not exclusions in the long list of Nord VPN's compatibilities.
5 of 5
Multi-Platform Support
NordVPN supports all existed platforms: Windows, macOS, Linux, Android, iOS, and as it has applications for all operating systems, you may run it on 6 different devices at the same time. [12]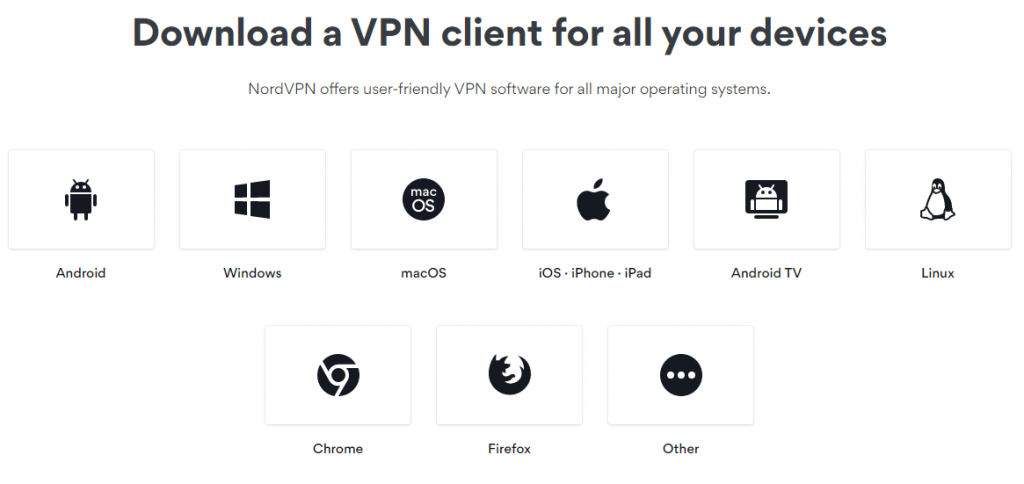 5 of 5
Plans & Pricing
VPN offers a tariff plan that may look quite expansive: if you wish to pay just for a month, it will cost you $12. But the longer is your cooperation with the service, the more affordable it becomes. The long-term plans when you subscribe for a year, two, or even three years turn out more than attractive. One-year pricing implies $7 monthly payment; the two-years plan will cost you $4.99 per month. If you decide to legalize your relationship with NordVPN for three years at once, then the program will cost you only $3.49 monthly, and as a honeymoon, you are guaranteed three months of free use of the service.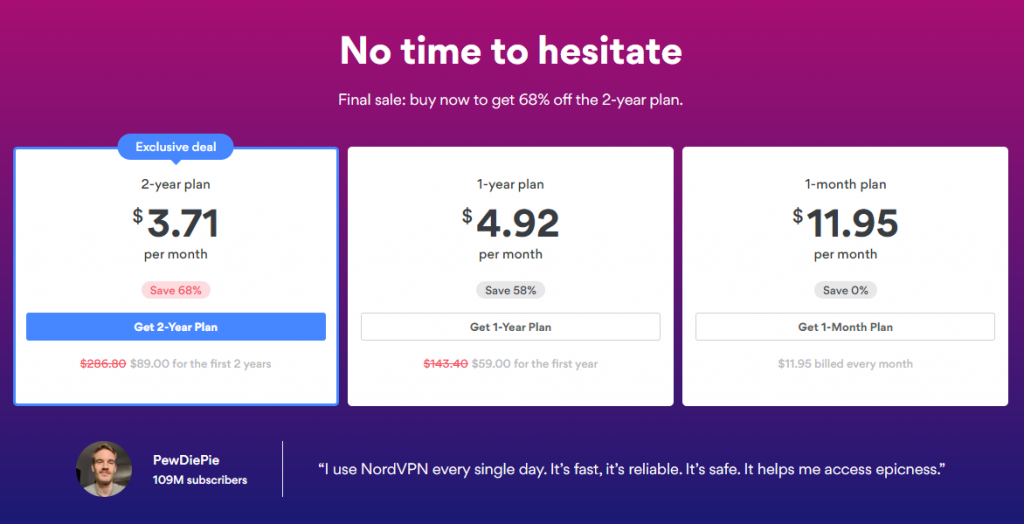 5 of 5
Free Trial
There is no free trial for NordVPN.
4 of 5
Payments & Refunds
As written a bit above, in chapter 11, the system of payments for Nord VPN's services is very flexible and – on the condition of a long-term subscription – is one of the most attractive on the market. There is the same rule of 30-days refunding in case if you didn't like the program, as IPVanish has.

5 of 5
Customer Support
NordVPN has 24/7 Customer service. Unlike IPVanish's Customer support, this one has only positive comments from users.
5 of 5
Value
To be brief, Nord VPN is an ultimate service for reasonable money. Of course, if you need a VPN just occasionally, it makes sense to try something with a lower price for a month. But if a reliable VPN is an integral part of your daily routine, the long-term subscription for NordVPN may become a wise technical and financial solution.
5 of 5
Useful Video: IPVanish vs NordVPN: Full comparison & CLEAR WINNER REVEALED | 2021
---
Conclusions
IPVanish and NordVPN are two obvious leaders in the market of VPN services. Comparing the total score, we may say that they are almost even in the general quality, the security level, and pricing. Each program can boast some specific and even unique features. Each has a lot of advantages and a few relative lacks. The best way to choose the exact one fitting the best right for your purposes would be to run each for a month on the condition "try and buy". But alas, neither has a trial period.
---
References:
https://www.newamerica.org/oti/reports/cost-connectivity-2020/global-findings/
https://support.ipvanish.com/hc/en-us/articles/360051192433-How-do-I-add-SugarSync-to-my-existing-IPVanish-subscription-
https://www.ipvanish.com/vpn-encryption/
https://support.ipvanish.com/hc/en-us/articles/360001280013-What-is-the-IPVanish-SOCKS5-Proxy-Server-
https://support.ipvanish.com/hc/en-us/articles/115002074474-Supported-Operating-Systems
https://www.ipvanish.com/coupons/
https://www.ipvanish.com/pricing/
https://nordvpn.com/features/dns-leak-test/
https://nordvpn.com/servers/
https://nordvpn.com/features/strict-no-logs-policy/
https://support.nordvpn.com/General-info/SmartPlay/1047407902/How-to-securely-watch-streaming-services-with-NordVPN.htm
https://nordvpn.com/features/many-devices/
---